When It's Real

 Title & Author: When It's Real by Erin Watt

Genre: Contemporary/Romance

 Release Date: May 30, 2017

 Publisher: Harlequin Teen

 Series Details: Standalone

Page Count: 413 Pages

 Description: "Meet Oakley Ford-teen celebrity, renowned pop star, child of famous movie stars, hottie with millions of fangirls… and restless troublemaker. On the surface he has it all, but with his home life disintegrating, his music well suddenly running dry, and the tabloids having a field day over his outrageous exploits, Oakley's team decides it's time for an intervention. The result: an image overhaul, complete with a fake girlfriend meant to show the world he's settled down.

Enter seventeen-year-old Vaughn Bennett-devoted sister, part-time waitress, the definition of "normal." Under ordinary circumstances she'd never have taken this gig, but with her family strapped for cash, she doesn't have much of a choice. And for the money Oakley's team is paying her, she figures she can put up with outlandish Hollywood parties and a team of publicists watching her every move. So what if she thinks Oakley's a shallow, self-centered jerk? It's not like they're going to fall for each other in real life…right?"
"The good ones put your character to the flame and burn away all the rest of the shit until you come out a better you."
So here's the thing: I can't say that reading this book made me a better person. I can, however, admit that I thoroughly enjoyed abandoning the real world for a few hours to devour Watt's newest novel, and that – at the end of the day – is all I require.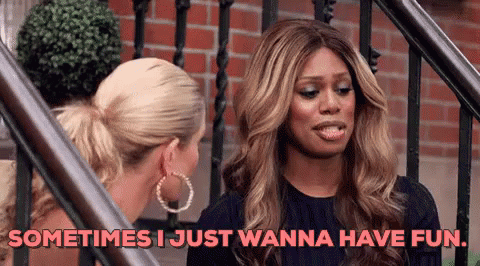 If you edit out the "sometimes" in the image above you'd basically have my blog sans the fantasy series and occasional thriller. I mean I'm clearly on board the YA/NA contemporaries fanboat (shh it's a real thing). I mean let's be real, I've read 2 in the past 2 days alone. And, yes, they aren't high brow. And, no, they won't be scoring me any points among the literati. But, like any good spa day, they're relaxing, comforting, and a perfect way to spend an idle afternoon.
You might laugh, but contemporaries are a lot like spas. They're all basically the same – filled with the same services/tropes – but some are simply better quality than others. And no one in their right mind would refuse a 4-Star spa experience simply because they've done it before/know what's going to happen…
When It's Real provides another spin on the "let's pretend to date for *insert reason here* and see what happens" trope. So, yeah, you're probably going to know "what happens" before cracking open the spine. What you won't know, however, is how much you'll smirk at the banter between girl-next-door (because I mean obviously) Vaughn Bennett and pop star Justin Bieber Oakley Ford on their journey to the inevitable. You won't know just how fast you'll actually speed read through 400+ pages to witness Vaughn and Oak's relationship evolution. You won't know how hard you'll fall for secondary characters and rage at certain fictional dick wits characters. #StrongerConnectionMyBum
Overall:
I don't want to give too much away because contemporaries aren't about the tropes; they're about the characters. When It's Real, like most Erin Watt novels, will not disappoint. And if you're anything like me, you'll never have to pretend to be in love.