Hey book fam! Happy Thursday!
As y'all know from my most recent TTT post, I've been fairly busy these past few weeks, which has kept me from giving my blog the full attention it deserves.
However, due to looming ARC deadlines, and September (read: one of the busiest publishing months of the year — at least for the genres I tend to read) starting tomorrow, I'm vowing to make a more concentrated effort. *underlines sentiment in planner*
With that being said, I'm trying to go back and address the awards, tags, and pingbacks I've so graciously been nominated/tagged/referenced in!
First up? The "How I Choose My Books" Tag — featuring books I've never referenced in previous posts!! 
I was tagged by the lovely Birdie Bookworm. Actively blogging for a little more than a year, Birdie's site is constantly updated with engaging content from reviews and tags to weekly memes! If you're looking for an active reader's site full of interesting posts — she's your gal!
---
1) Find a book on your shelves with a blue cover. What made you want to pick up this book? Wonder by R.J. Palacio
My husband would say that I'm notorious for "spoilers." This simply isn't true. What I am notorious for is being informed. What does this have to do with Wonder, you ask? Well, I like reading non-spoilers trivia from IMDB about a movie prior to seeing the film. On that same note, I like reading the source material before going to see a cinematic adaptation. With Wonder(< trailer) hitting screens this November, I was finally given the push I needed to read this adorable story.
2) Think of a book you didn't expect to enjoy, but did. Why did you read it in the first place?  Relentless by Tim Grover
I don't tend to read books that I think I won't enjoy. However, this little gem of required work reading was the gift I didn't know I needed. Usually business books are a rinse, wash, repeat of the same bits of acquired knowledge presented in bland and uninspired formats. Relentless shatters that mold. Written by the former personal trainer for Michael Jordan, Kobe Bryant, Dwayne Wade and more, Grover bluntly presents 13 rules (because he doesn't believe in luck) to becoming a "Cleaner" (read: unstoppable). This is my ultimate hype book and my go-to when I need a kick in the booty!
3) Stand in front of your bookshelf with your eyes closed and pick up a book at random. How did you discover this book?  The Girl With All The Gifts by M.R. Care
In one of my many trips to good ole B&N, I was browsing the "Must Reads" table and was immediately drawn to this dystopian thriller. The cover featured not only my favorite color, but also some heavy praise from Joss Whedon — one of my top 5 dream dinner guests. The rest as the clichéd say is history.
4) Pick a book that someone personally recommended to you. What did you think of it?  The Da Vinci Code by Dan Brown
I was given this book — back in it's hype days — before I boarded a flight to France. It was one of the first thrillers I'd ever read that was so deeply rooted in history and religion…or at least Brown's version of events. As a young teen, it kept me intrigued and served as a great sneak preview for all the sights I'd soon be visiting.
5) Pick a book that you discovered through YouTube/book blogs. Did it live up to the hype?  The Gentleman's Guide to Vice and Virtue by Mackenzi Lee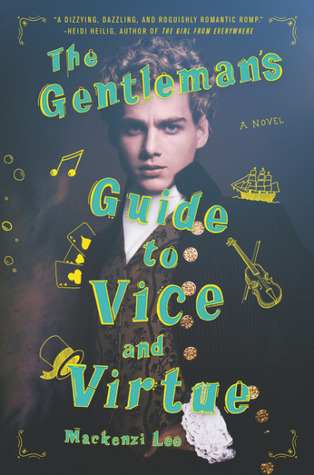 Full disclosure: I've yet to finish this delightfully entertaining adventure. However, I was smitten within 5 pages and don't see that changing…so I'm going to go ahead and assume it's safe to say this will live up to the hype. Stay tuned for a future review to see if I have to eat crow.
6) Find a book on your shelves with a one-word title. What drew you to this book?  Bossypants by Tina Fey
Obviously those masculine arms. No? Not believable? Okay fine! If you've read my Liebster award post you'll know that Tina is my spirit animal — and another top 5 dream dinner guest. Getting an insight into her life, thought process, and success was incentive enough to purchase this memoir.
7) What book did you discover through a film/TV adaptation?  Hamilton: The Revolution by Lin-Manuel Miranda & Jeremy McCarter
So this is kind of cheating. However, as I said in question 1, I'm not really a movie than book kind of person. But this gift from the heavens, I discovered after becoming obsessed with the musical it centers around. This incredible tome provides an insider's guide to everything from the score and the lyrics to the choreography and set design. And Lord knows if the G.O.A.T. (read: LMM) is involved in any way, I'm going to willingly participate.
8) Think of your all-time favorite book/books. When did you read this/these and why did you pick it/them up in the first place?  The Outsiders by S.E. Hinton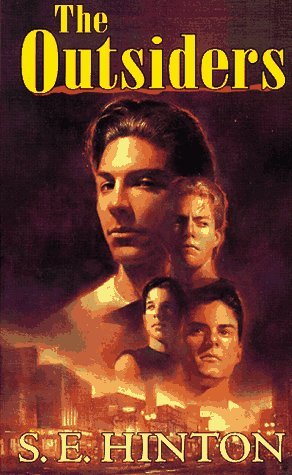 Okay this was hard. I didn't consider this question when I said I was only going to use books that had NEVER been featured on my blog. Sorry, HP! The Outsiders is a long-time favorite though and one I've never been able to work into a post before so maybe this was kismet! This was assigned reading in my middle school, but it resonated and became a consistent re-read. Also, it's a unique coincidence that I couldn't talk about Harry Potter in this post because S.E. Hinton is the O.G. J.K. Rowling.
9) Tags? 
Well there you have it folks! Hopefully you've learned a little bit more about me and about "how I choose my books." Have you read any of these? Any recs based off these choices? Let me know below!
And as always, happy reading!