Hello fellow bookworms! I'm sitting in my library with a ridiculous grin on my face because my beautiful box of book mail arrived from HarperCollins tonight!! In case you didn't know, I won a contest for a box of dreams ARCs from the lovely Heather Doss. The contents were actually quite different from the picture I previously featured so I thought I'd post an update of what was inside the box!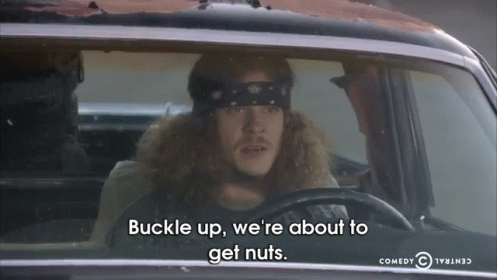 The box — featured in the title image — contained the following:
Young Adult: 
Description: Kamzin has always dreamed of becoming one of the Emperor's royal explorers, the elite climbers tasked with mapping the wintry, mountainous Empire and spying on its enemies. She knows she could be the best in the world, if only someone would give her a chance.
But everything changes when the mysterious and eccentric River Shara, the greatest explorer ever known, arrives in her village and demands to hire Kamzin—not her older sister Lusha, as everyone had expected—for his next expedition. This is Kamzin's chance to prove herself—even though River's mission to retrieve a rare talisman for the emperor means climbing Raksha, the tallest and deadliest mountain in the Aryas.  Then Lusha sets off on her own mission to Raksha with a rival explorer who is determined to best River, and Kamzin must decide what's most important to her: protecting her sister from the countless perils of the climb or beating her to the summit.
The challenges of climbing Raksha are unlike anything Kamzin expected—or prepared for—with avalanches, ice chasms, ghosts, and even worse at every turn. And as dark secrets are revealed, Kamzin must unravel the truth of their mission and of her companions—while surviving the deadliest climb she has ever faced.
2) Nothing by Annie Barrows; Release Date: 9/5/17
Description: Nothing ever happens to Charlotte and Frankie. Their lives are nothing like the lives of the girls they read about in their YA novels. They don't have flowing red hair, and hot romantic encounters never happen—let alone meeting a true soul mate.
They just go to high school and live at home with their parents, who are pretty normal, all things considered. But when Charlotte decides to write down everything that happens during their sophomore year—to prove that nothing happens and there is no plot or character development in real life—she's surprised to find that being fifteen isn't as boring as she thought.
It's weird, heartbreaking, silly, and complicated. And maybe, just perfect.
3) Before She Ignites by Jodi Meadows; Release date: 9/12/17
Description: Mira has always been a symbol of hope for the Fallen Isles, perfect and beautiful—or at least that's how she's forced to appear. But when she uncovers a dangerous secret, Mira is betrayed by those closest to her and sentenced to the deadliest prison in the Fallen Isles.
Except Mira is over being a pawn. Fighting to survive against outer threats and inner demons of mental illness, Mira must find her inner fire and the scorching truth about her own endangered magic—before her very world collapses.
And that's all before she ignites.
4) Neighborhood Girls by Jessie Ann Foley; Release Date: 9/12/17
Description: When Wendy Boychuck's father, a Chicago cop, was escorted from their property in handcuffs, she knew her life would never be the same. Her father gets a years-long jail sentence, her family falls on hard times, and the whispers around their neighborhood are impossible to ignore. If that wasn't bad enough, she gets jumped walking home from a party one night. Wendy quickly realizes that in order to survive her father's reputation, she'll have to make one for herself.
Then Wendy meets Kenzie Quintana—a foul-mouthed, Catholic uniform-skirt-hiking alpha—and she knows immediately that she's found her savior. Kenzie can provide Wendy with the kind of armor a girl needs when she's trying to outrun her father's past. Add two more mean girls to the mix—Sapphire and Emily—and Wendy has found herself in Academy of the Sacred Heart's most feared and revered clique. Makeover complete.
But complete is far from what Wendy feels. Instead, she faces the highs and lows of a toxic friendship, the exhaustion that comes with keeping up appearances, and a shattering loss—the only one that could hurt more than losing herself.
5) The Grave Keepers by Elizabeth Byrne; Release Date: 9/12/17
Description: Lately, Athena Windham has been spending all her spare time in her grave.
Her parents—owners of a cemetery in Upstate New York—are proud of her devoutness, but her younger sister, Laurel, would rather spend her time exploring the forest that surrounds the Windham's' property than in her own grave.
The Windham girls lead secluded lives—their older sister died in a tragic accident and their parents' protectiveness has made the family semi-infamous.
As the new school year begins, the outside world comes creeping in through encounters with mean girls, a new friend, and a runaway boy hiding out in the cemetery. Meanwhile, a ghost hangs around the Windham property—the only grave keeper never to cross over—plotting how to keep the sisters close to home and close to her . . . forever.
6) Madness
by Zac Brewer; Release Date: 9/19/17

Description: Brooke Danvers is pretending to be fine. She's gotten so good at pretending that they're letting her leave inpatient therapy. Now she just has to fake it long enough for her parents and teachers to let their guard down. This time, when she's ready to end her life, there won't be anyone around to stop her.
Then Brooke meets Derek. Derek is the only person who really gets what Brooke is going through, because he's going through it too. As they start spending more time together, Brooke suddenly finds herself having something to look forward to every day and maybe even happiness.
But when Derek's feelings for her intensify, Brooke is forced to accept that the same relationship that is bringing out the best in her might be bringing out the worst in Derek—and that Derek at his worst could be capable of real darkness.
7) Top Ten by Katie Cotugno; Release Date: 10/03/17
Description: Ryan McCullough and Gabby Hart are the unlikeliest of best friends. Prickly, anxious Gabby would rather do literally anything than go to a party. Ultra-popular Ryan is a hockey star who can get any girl he wants—and frequently does. But somehow their relationship just works; from dorky Monopoly nights to rowdy house parties to the top ten lists they make about everything under the sun.
Now, on the night of high school graduation, everything is suddenly changing—in their lives, and in their relationship. As they try to figure out what they mean to each other and where to go from here, they make a final top ten list: this time, counting down the top ten moments of their friendship.
8) Among the Red Stars by Gwen C. Katz; Release Date: 10/03/17
Description: World War Two has shattered Valka's homeland of Russia, and Valka is determined to help the effort. She knows her skills as a pilot rival the best of the men, so when an all-female aviation group forms, Valka is the first to sign up.
Flying has always meant freedom and exhilaration for Valka, but dropping bombs on German soldiers from a fragile canvas biplane is no joyride. The war is taking its toll on everyone, including the boy Valka grew up with, who is fighting for his life on the front lines.
As the war intensifies and those around her fall, Valka must decide how much she is willing to risk to defend the skies she once called home.
Inspired by the true story of the airwomen the Nazis called Night Witches, Gwen C. Katz weaves a tale of strength and sacrifice, learning to fight for yourself, and the perils of a world at war.
9) The Gatekeepers by Jen Lancaster; Release Date: 10/10/17
Description: Anyone passing through North Shore, Illinois, would think it was the most picture-perfect place ever, with all the lakefront mansions and manicured hedges and iron gates. No one talks about the fact that the brilliant, talented kids in town have a terrible history of throwing themselves in front of commuter trains.
Meet Simone, the bohemian transfer student from London, who is thrust into the strange new reality of an American high school; Mallory, the hypercompetitive queen bee; and Stephen, the first-generation genius who struggles with crippling self-doubt. Each one is shocked when a popular classmate takes his own life…except not too shocked. It's happened before. With so many students facing their own demons, can they find a way to save each other—as well as themselves?
10) The Memory Trees by Kali Wallace; Release Date: 10/10/17
Description: For the first eight years of her life, an unusual apple orchard in Vermont is Sorrow Lovegood's whole world. The land has been passed down through generations of brave, resilient women, and while their offbeat habits may be ridiculed by other townspeople—especially their neighbors, the Abrams family—Sorrow and her family take pride in its odd history.
Then one winter night, an unthinkable tragedy changes everything. In the aftermath, Sorrow is sent to Miami to live with her father, away from the only home she's ever known.
Now sixteen, Sorrow's memories of her life in Vermont are maddeningly hazy. She returns to the orchard for the summer, determined to learn more about her troubled childhood and the family she left eight years ago. But it soon becomes clear that some of her questions have difficult—even dangerous—answers. And there may be a price to pay for asking.
11) Calling My Name by Liara Tamani; Release Date: 10/24/17
Description: This unforgettable novel tells a universal coming-of-age story about Taja Brown, a young African American girl growing up in Houston, Texas, and deftly and beautifully explores the universal struggles of growing up, battling family expectations, discovering a sense of self, and finding a unique voice and purpose.
Told in fifty-three short, episodic, moving, and iridescent chapters, Calling My Name follows Taja on her journey from middle school to high school. Literary and noteworthy, this is a beauty of a novel that deftly captures the multifaceted struggle of finding where you belong and why you matter.
Description: Kat and Meg couldn't be more different.
Kat's anxiety makes it hard for her to talk to new people. The only place she feels safe is in front of her computer, playing her favorite video game.
Meg hates being alone, but her ADHD keeps pushing people away. Friends. Her boyfriend. Even the stepfather who raised her.
But when the two girls are thrown together for a year-long science project, they discover they do have one thing in common: their obsession with the online gaming star LumberLegs and his hilarious videos.
Meg's pretty sure this is fate. Kat doesn't know how to deal with someone who talks faster than she thinks. But if they can stick together and stay out of their heads, they might figure out how to help each other–and build the kind of friendship Kat never knew she wanted and Meg never believed she'd find.
13) Here We Are Now by Jasmine Warga; Release Date: 11/07/17
Description: Taliah Sahar Abdallat lives and breathes music. Songs have always helped Tal ease the pain of never having known her father. Her mother, born in Jordan and very secretive about her past, won't say a word about who her dad really was. But when Tal finds a shoebox full of old letters from Julian Oliver—yes, the indie rock star Julian Oliver—she begins to piece the story together.
She writes to Julian, but after three years of radio silence, she's given up hope. Then one day, completely out of the blue, Julian shows up at her doorstep, and Tal doesn't know whether to be furious or to throw herself into his arms. Before she can decide, he asks her to go on a trip with him to meet her long-estranged family and to say good-bye to his father, her grandfather, who is dying.
Getting to know your father after sixteen years of estrangement doesn't happen in one car ride. But as Tal spends more time with Julian and his family, she begins to untangle her parents' secret past, and discovers a part of herself she never recognized before.
*14) This Darkness Mine by Mindy McGinnis; Release Date: 10/10/17 — being sent separately 
Description: Sasha Stone knows her place—first-chair clarinet, top of her class, and at the side of her Oxford-wearing boyfriend. She's worked her entire life to ensure her path to Oberlin Conservatory as a star musician is perfectly paved.
But suddenly there's a fork in the road in the shape of Isaac Harver. Her body shifts toward him when he walks by, and her skin misses his touch even though she's never known it. Why does he act like he knows her so well—too well—when she doesn't know him at all?
Sasha discovers that her by-the-book life began by ending the chapter of another: the twin sister she absorbed in the womb. But that doesn't explain the gaps of missing time in her practice schedule, or the memories she has of things she certainly never did with Isaac.
Armed with the knowledge that her heart might not be hers alone, Sasha must decide what she's willing to do—and who she's willing to hurt—to take it back.
Kids/Middle Grade:
Description: You've never seen Earth like this before: continents reshaped, oceans re-formed, cities rebuilt, and mountains sculpted anew. Dinosaurs roam the plains alongside herds of buffalo, and giant robots navigate the same waters as steam-powered ships.
This is the world Diego Ribera was born into. The past, present, and future coexisting together. In New Chicago, Diego's middle school hallways buzz with kids from all eras of history and from cultures all over the world. The pieces do not always fit together neatly, but this is the world he loves.
There are those, however, who do not share his affection. On his thirteenth birthday, Diego learns of a special gift he has within, a secret that is part of something much bigger—something he cannot understand. When his father, New Chicago's top engineer, is taken by the Aeternum, Diego must rescue him and prevent this evil group from disrupting the fragile peace humanity has forged.
Description: It is an ordinary Tuesday morning in April when bored, lonely Charlie Fisher witnesses something incredible. Right before his eyes, in a busy square in Marseille, a group of pickpockets pulls off an amazing robbery. As the young bandits appear to melt into the crowd, Charlie realizes with a start that he himself was one of their marks.
Yet Charlie is less alarmed than intrigued. This is the most thrilling thing that's happened to him since he came to France with his father, an American diplomat. So instead of reporting the thieves, Charlie defends one of their cannons, Amir, to the police, under one condition: he teach Charlie the tricks of the trade.
What starts off as a lesson on pinches, kicks, and chumps soon turns into an invitation for Charlie to join the secret world of the whiz mob, an international band of child thieves who trained at the mysterious School of Seven Bells. The whiz mob are independent and incredibly skilled and make their own way in the world—they are everything Charlie yearns to be. But what at first seemed like a (relatively) harmless new pastime draws him into a dangerous adventure with global stakes greater than he could have ever imagined.
17) Mr. Gedrick and Me by Patrick Carman; Release Date: 11/07/17
Description: Stanley Darrow isn't sure what to expect when the mysterious Mr. Gedrick appears on his doorstep. He is certain, however, that his family could use Mr. Gedrick's help: Their lives—and their house—have been a mess since Stanley's dad died.
The strange new nanny quickly helps them transform their cluttered home into a sparkling and spotless version of its former self, but it's going to take more than a clean house to help the Darrow family learn to live and love again.
Can Mr. Gedrick help Stanley, his brother, Fergus, his sister, Amelia, and his mom find their way back to each other? And what secrets of his own is Mr. Gedrick hiding behind his crooked grin?
---
Family photo time! Look at them! Aren't they glorious?
---
So there you have it! But now, book bloggers, I need your help! Where do I start? What should I read first? Have you read any of these? Which ones sound the best to you?
Your guidance and advice is appreciated!
And, as always, happy reading!