Happy Monday, fellow book bloggers!
I apologize for my absence last week. Outside of disclosing my covers to FALL for, I was pretty much MIA.
I'd like to say it was because I was catching up on ARC deadlines or scheduling one of the 20 or so posts I'm behind on (*insert deep breath*), but this was pretty much my week:
Monday: 
Tuesday:
Wednesday:
Thursday:
Friday:
Saturday:
Sunday:
By Sunday I simply had had enough! I finally buckled down, finished a book, and wrote up a blog post, which brings us up to date!
---
I stumbled upon today's tag after being — you guessed it — tagged by the lovely Emma @EmmaReads. Y'all if you're looking for a new page to peruse, do yourselves a favor and click that link! Emma's writing is so relatable, entertaining, and always leaves me laughing. She writes in such a conversational tone and her rants are nothing short of epic. So for real, go check her page out!
As for today's post, I'll be providing my answers to the Goodreads Book Tag!
If you're reading this post, I'm going to go ahead and assume you're familiar with GR! If you aren't, comment below (don't be shy) and I'll fill you in on the glory that is GR!
Let's do this!
---
1) What was the last book you marked as "read?"
An Enchantment of Ravens by Margaret Rogerson. 
I finished this fae fantasy on Sunday night, and will report back via full review shortly! In the meantime, look (for the thousandth time) at Charlie's beautiful cover art and continue to appreciate it for the magic that it is!
2) What are you currently reading?
ARC: My New Crush Gave To Me by Shani Petroff
Non-ARC: Speak Easy, Speak Love by McKelle George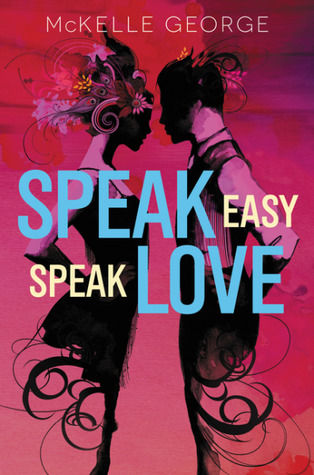 I just started these so I don't have much to say — yet — but you guys know I've been looking forward to these for weeks so I'm confident I'll be speed reading through them this week!
I will tell you that I'm loving the fact that each chapter in Speak is titled and joined by an image of that gorgeous headdress from the cover.
3) What was the last book you marked as TBR?
After the Eclipse: A Mother's Murder, A Daughter's Search by Sarah Perry.
This powerful memoir was my October BOTM selection and currently has a 4.56/5 rating on GR! The reviews consistently state that this is dark & emotional story with an inspiration takeaway. Given that I cry over fictitious narratives, I'll have to keep you guys posted on when I feel emotionally prepared for this real-life heavy hitter!
4) What book do you plan to read next?
I'm nervous to answer this question because I rarely stick to the plan. Case in point? My last two WWW Wednesday posts! I get to that "What I'm Reading Next" section, insert a book I'm super excited about/obligated to read, and then, next thing I know: BAM! I'm rereading ACOMAF for the 5th time or picking up a completely different book entirely! But, I'm pretty sure all readers are like that, right? Guys?
Honestly, I'm going to be trying really hard to get some ARCs (see below) crossed off my list in my next few reads, so hopefully that will actually happen. Resists the urge to visit Velaris…
5) Do you use the Star rating system?
Yes. I think the Star system is a super efficient way to establish the tone of reviews while providing a quick snapshot of opinions for the reader. However, the ONE MAJOR FLAW in GR's Star rating system is the lack of half star ratings. I mean for real what is that? Why is that not a functioning feature by now? As a site dedicated to readers BY readers there's simply no excuse. But we continue to endure…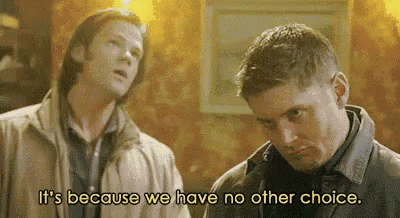 For real though, Dean's face is cranky readers everywhere!
6) Are you doing a 2017 reading challenge?
Absolutely! That's one of my favorite GR features. Not only to keep track of my own progress, but it's also a great way to stress yourself out by comparing your tiny reading goals to other "actual" reader's goals quickly scan fellow Goodreader's reading progress and compare books. It's one of the first things I look at when determining whether to friend someone…just being honest. 
7) Do you have a wishlist?
I was recently introduced to the idea of the Amazon Wish List. And like any sensible reader, I promptly made a wish list — a 30 books deep wish list — in like .0025 seconds.
And yeah, I know this is the GR's book tag and I should probably have a Wish List shelf and link to that instead, but this was so much easier in terms of helping readers potentially buy me a gift. So see, I'm really doing the kind, altruistic thing here.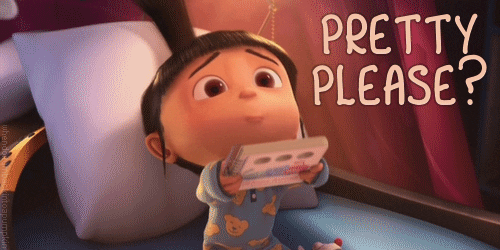 Just playing guys. Unless you're feeling charitable. In which case, who am I to stop you?
8) What book do you plan to buy next? 
Well if Agnes did the trick… I'm currently not planning on buying anything new for a hot minute or two. I was able to use a birthday gift card to get some anticipated titles recently so those plus my ARCs will keep me satisfied for a bit….hopefully…
9) Do you have any favorite quotes? Share a few.
I actually did a post a few months back about my Top Ten favorite book quotes from books I'd read over the past year or so. But I'll give you one quote from a fairly recent read:
"The world, I remind myself, is mine, if only I have the courage to grasp it when the opportunity is given to me." — Bad Romance by Heather Demetrios. I honestly would quote the entire book if I could. I loved it as you can see from my review.
10) Who are your favorite authors?
I'm constantly adding to this list, but I'll shout out a few: J.K. Rowling (my childhood fave), Colleen Hoover (my 2016 contemporary fave), Elle Kennedy (my NA fave), and Leigh Bardugo (my Grisha fave).
I'm thinking Mindy McGinnis, Heather Demetrios, Francesca Zappia, and Amy Harmon will be added to that list as I continue to read more of their works.
11) Have you joined any groups?
I'm currently in two groups: Polls for our Souls and Read-A-Thin. The first, because it's nice to be able to send a poll out into the universe for guidance from fellow readers and vice versa. The second, because I'm all about reading books I currently own right now, and that's what this group focuses on.
---
There you have it! My Goodreads Book Tag! If you haven't done this — and want to play along — consider yourself tagged! Make sure to tag me so I can see all of your lovely answers!
And, as always: Happy Reading!