Good morning, fellow book bloggers! Instead of spending the weekend catching up on reading, writing reviews/tags/award posts, or blogging, I spent it carving pumpkins with the fam and creating a #Bookstagram account! 
Aww! Thanks, Kenneth! I feel I'm going to need that support and enthusiasm later.
Now, I'm sure some of you are thinking:
"But, Taylor, you're already behind on your reading challenge, reviews, tags, ARCs, awards, weekly memes, general life responsibilities, etc. HOW do you plan on adding #Bookstagram to the mix and surviving??"
To that I'd say, "Well, you see, the thing is…*starts mumbling in dog-decibel level*…"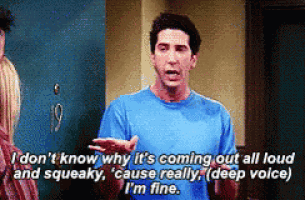 For real though, I honestly wanted to do it because it seemed relaxing. *Hears fellow #bookstagrammers cackling in the wind* All jokes aside, it was a way to take my mind off of the posts I'm behind on to ensure that when — and if — I get to them they're not being written out of obligation, but out of joy.
I don't want my work to suffer because I'm rushing against a fictitious clock of my own creation. I know we're taught to rush due to the stiff competition out there (i.e. the early bird gets the worm), but what's the point if by doing so we lose the fun/passion/joy of it all? So, in efforts to enjoy this more I'm choosing to operate at my own pace. I'm choosing to add more time-consuming tasks to my already hefty plate because why the hell not?
Hopefully this will be good for you (my loyal followers and readers), me (and my sanity), and the writing itself.
---
With that being said, I'm TOTALLY new to the #Bookstagram thing! I have only posted a few images — so far — and am barely following anyone at this point. So, help a sister out! If you have an account please comment below so I can check it out! As for the photography, I'm new to that too so all thoughts/commentary are welcome! And if you don't want to click either of my links feel free to follow me the old-fashioned way by adding me via my IG handle @NerdNarration!
My very first #Bookstagram post was dedicated to my #Elphaba pumpkin. I spent all night Saturday with my family carving pumpkins (pictures to come) and this photo was just begging to be taken! #RubySlippers and all!
Again, being new to the forum, I'm also new to the whole "decorate our current reads with pretty things we have lying around the house" thing. This is my first attempt, and I wanted to play off the beautiful headdress on George's cover.
My final photo is a sneak peak from my upcoming #ThrowbackThursday post. It's one of my favorite dedications from one of my favorite books! 
Do you know it? If not, click the link above for the reveal!
---
Well, that's how I spent my weekend. Do you have a #Bookstagram account? Have you been considering making one? What's stopping you? If you have an account, comment below so I can check out your page!
And, as always: Happy Reading!