Top Ten Tuesday #14 
Happy Tuesday, fellow readers and lovers of bookish things! I am officially in full-holiday mode and I couldn't be more thrilled! 
And although it irks me to no end that this gif doesn't say "it's the most wonderful time of the year," I simply had to use it because it captured the magic of the season.
I expect this week is going to fly by due to all the holiday festivities, but I'm looking forward to every last thing on m list! From hockey games and holiday parties, to spending some quality time with my family and listening to Christmas music while partaking in our annual cookie decorating contest. Where the spirit gets real. Seriously, y'all sprinkles hit the fan. 😉
---
Today's TOP TEN TUESDAY hosted by  The Broke and the Bookish is brought to you by our collective — and hopefully utilized — Christmas' wish lists! So mom/Ryan, if you're reading, you're welcome =P
Check out my All I Want for Christmas Is You: Book Edition or "Top Ten Books I Hope Santa Brings Me."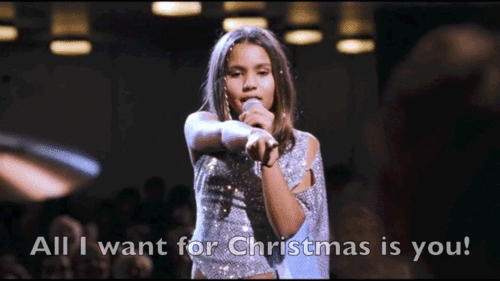 *Curses! Now I just want to watch Love Actually again…*
---
So IF Santa has the hookup to the publishing world (I mean, you never know, right?), or IF some of you wonderful bloggers had…I don't know…an extra copy just laying around…these are the Top 10 ARCs I'd lose my snowflakes over:
I'm not breaking all these down because: 1) I'm coming to terms with the fact that these will be hard for Saint Nick to acquire and 2) Most of y'all know full well WHY these are on my list.
IF you were looking for more "realistic" options for under the tree, here's a look at the Top 10 released books I'd be ecstatic to unwrap: 
I wouldn't mind seeing this OR its' sequel hidden underneath the tree. Beyond that fact that it's in its' second wind of bloggers fangirling, it's also been on my TBO (to be owned) list for too dang long.
So my 2016 — and honestly most of 2017 as well — was ruled by Hamilton. I simply could never be "Satisfied." Last October, however, I kept hearing whispers of what was to come in DEH and they all proved to be true! I couldn't think of a more fitting way to end 2017 then by spending it with the cast that forced me to — finally — change soundtracks.
I don't know if it's the exploding bath bomb on the cover or the intriguing premise that's got me interested, but I am here for this smart and addictive sci-fi read.
I don't recall when or how I first discovered this coming-of-age fantasy, but I do know how much people seem to love it. Although there's only 60 reviews currently on Amazon, 95% of them are 5-Stars, which means I'm on to something…
I'm a big fan of completing tasks and checking things off my list; therefore, being gifted the final installment of the Monsters of Verity duology would be a lovely Christmas surprise. Plus, I'd get to read it…so there's that.
6) Godsgrave by Jay Kristoff
See number 5. Although I think this series will actually be a trilogy so…
The end of the year is always a time for reflection and what better (book) mentor could I ask for than my hero, J.K. Rowling? Yes, this is her Harvard commencement speech in book form. And, yes, I could just watch it on YouTube. But, hello! We're book people.
This might be a dark choice for the holidays, but the hype is real, y'all. People are doing NOTHING, but singing this emotional debut's praises and I want in!
Because everyone's entitled to a "late to the party" book on their list. Disregard numbers 1, 5, and 6 when following this logic.
The heavy hitter on the list. I've been waiting months to check out this gripping and topical read, so listen up, Santa. 😉
---
So there's my double helping of Christmas wish lists! If you're still craving some more insights into my "dream purchases" or want to send a little something my way, feel free to check out my Amazon wish list. Jokes aside, I hope everyone has a wonderful holiday season!
And, as always: Happy Reading!