Hello my fellow bibliophiles!
First and foremost, I hope the new year is treating you right! And if it isn't, remember we're only 18 days in so there's PLENTY of time to turn it around.
As for this post, I'm sure y'all saw the title and thought to yourselves: "Hmm, this wrap up seems super behind," but guess what I don't care!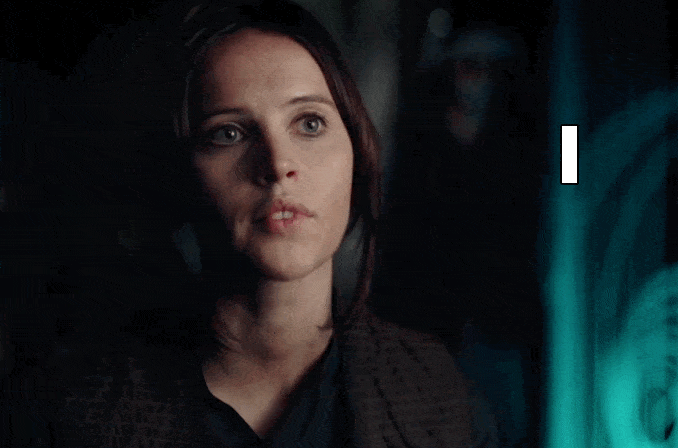 See, I'm so rebellious I use Star Wars gifs to get my point across! Cause, you know, the Force.
Jokes aside, I've had a pretty chaotic start to 2018 (family obligations, hubby in hospital, pet surgery, bridesmaid duties, etc) which curtailed my blog posting. However, now that I'm out of the woods, I'm ready to dive back in and felt like starting with my Dec. Wrap Up because I finished 2017 with some pretty fantastic reads!
Now, full disclosure: I haven't written full reviews for my December reads…YET! I fully intend to (and took copious notes in order to do so), but I was rushing to complete my Goodreads Challenge, which I'm thrilled to report I did! 
So enough with the backstory, let's dive into my December 2017 Wrap Up!
---
"Perfect happiness is" reading the flirtatious email exchanges between our  adorkable MC, Simon and the mysterious (and grammatically correct) Blue. Albertalli masterfully utilizes this e-correspondence to provide an insight into the minds of two teenage boys on the verge of first love, coming out, and other teenage dramas. And while there are one or two things I would like to have changed in regards to rep in this book, I think overall it was a funny and enjoyable read.
P.S. Is anyone else as excited for the movie as I am? If you want to join me, I'll bring the Reese's, you bring the Oreos. 😉
2) Drive by Kate Stewart – 3 STARS
Man, this book left me torn. Centering on Stella, a now fairly famous music critic, the book starts out with Stella discovering her former beau is getting married. This sends her on a spiral of the "what if/where would my life be" game and flings us back to the past and her story between the two great loves of her life and how she ended up where she is today. On the positive side: 1) I couldn't book this book down, 2) I honestly still find myself thinking about it weeks later, and most importantly 3) It features a KILLER soundtrack that allows you to listen along with the story. On the negative side: 1) The plot line was predictable, 2) There were a few rather unconventional twists that didn't often land, and 3) It ultimately felt like an updated collegiate version of The Notebook. But hey, if that's your jam it's FREE on Kindle Unlimited so check it out!
Determined to cross some ARCs off my list, I dived into this cute and fluffy contemporary about a Type-A teenage girl who recruits her "annoying" fellow classmate to help snag her a desirable date for the New Year's dance. There's cheese, tomfoolery, and some cringe-worthy Christmas caroling, but ultimately it left me smiling and — at times — laughing out loud. And even though I'm past my high school days, this authentic story was a great read for this Hallmark-happy time of year.
4) Losing It by Cora Carmack – 3 STARS
If I'm being honest I picked this up because: 1) I knew I could read it in a day, which was the goal (Read: This was an important factor given that the year was ending and I needed to finish the GR Challenge I mentioned earlier)  and 2) It had been sitting on my shelf for far too long. This NA insta-forbidden love story had a few moments that made me chuckles, but ultimately was a little too tropey to stand out from the crowd.
5) Six of Crows by Leigh Bardugo – 4 STARS
Y'all I FINALLY did it! I read SoC, which was a huge part of my WINter TBR! I feel like I can now type amongst y'all as equals. And before you get on my case, no I haven't read Crooked Kingdom yet, but let's celebrate the small victories first. I don't know what to say about this heist fantasy that hasn't already been said, but I'm hooked and excited to continue on with my Dregs. This ending has NOT been spoiled for me so do NOT be that person. 
6) ARC: Roomies by Christina Lauren – 4.5 STARS
I read a lot of contemporaries in my end-of-year rush, but one of my favorites of the month — if not the year — was this lovely ARC by power duo Christina Lauren. As a former professional journalist who is obsessed with musical theater and a certain male lead from Outlander, I feel like this "marriage of convenience" story gave me everything I needed. I literally laughed out loud countless times due to the shenanigans between our two MCs and recommend this to anyone looking for a quick and coquettishly charming read.
7) Mud Vein by Tarryn Fisher – 5 STARS
I'm not going to lie, I went into this book completely blind. Perhaps you've noticed from the other books on this list that I was clearly going for a theme: lighthearted contemporaries. That is NOT what I found in Mud Vein, which I discovered pretty much immediately. Despite the dark beginning, I wasn't expecting the gut punch of a reveal I received mere chapters later where I was physically forced to put the book down and breathe. I became captivated by this story and couldn't put it down until it was done. I finished this on Christmas morning (ironic right?) with tears streaming down my face. This book has some polarizing opinions out there but because I've never read anything like it, and because it affected me so deeply I felt compelled to give it a 5-Star rating.
My last read of the year went to another contemporary from my WINter TBR. And y'all I was on board from the opening line. I absolutely adored Kemmerer's writing style and her crafty word play that trickled throughout her novel. I fell hard for both of our leads and immediately requested an ARC of her next book (More Than We Can Tell) after speed reading this YA drama. And lucky for me, I don't need to punch fate in the face because I got approved!
---
I wrapped the month with 8 reads under my belt and an average star rating of 3.91, which might be my personal highest ever! Hopefully you enjoyed getting some insights into my December reading habits and if you loved/hated/meh'd any of these reads, let me know below! What should be on my eyes in January? Advice and comments always appreciated!
And, as always, Happy Reading!