Happy Thursday, fellow readers!! I'm here today to breakdown February's reading progress! And I know some of y'all do this before month's end or in the first week of the following month, but I feel as long as it's in by mid-month (read: today) it's totally acceptable!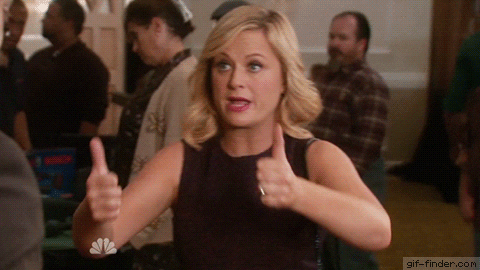 And even if it's not, whatever, it's YOUR blog! So without further ado let's jump into my February 2018 Wrap Up!
---
February READS (Full RsTC):
1) ARC: Reign of the Fallen by Sarah Glenn Marsh – 3.5 STARS

Like many of you, I was lured into the world of Karthia by that stunning cover art. And even though the plot sounded interesting, I wasn't totally sold on the idea of necromancers and zombie-esque Shades. So color me surprised — when I finally started reading — how quickly I fell for this book and its' characters. I was speeding through chapters and absolutely loving it until that Hitchcockian twist (you know the one) came at me hard. And that's when everything changed. I was still reading quickly, but now I was reading with emotions: shock, grief, confusion, anger, etc. Ultimately, I'm not fully on board (😉) with how some of the details tied together in the end, but this diverse fantasy was gripping enough to keep me invested in this crew for book 2.

*I'm confident you've read your fill of TCP reviews by now, but I'm still gonna give you my take.*
Full disclosure: my seat was firmly secured aboard the hype train prior to reading this. I saw glowing reviews, great cover art, and a smirk-inducing fan print by Merwild that made me turn the dial to 11. Within 5 pages the action was barging in and I was convinced the rest would be fae-freaking-tastic. I was introduced to a world of flaw-filled characters, a GoT like plot, and a huge hook ending that left me hungry for more. The only reason this wasn't a 5-Star read for me was because the romance portions didn't live up to my pre-formed expectations. Don't get me wrong, there were some solid passages and Black's "skill with a quill is undeniable," so I'm certain she's going to deliver some slow burny goodness come 2019.
I read this book for a prompt listed in ContemporaryAThon, and I'm so glad I did! After reading two highly anticipated fantasies, it was nice to spend the evening with this You've Got Mail-ish retelling. I don't know if there was any one thing (read: there definitely was — his name is Porter Roth) that made me go all 😍, but the swooning was real, y'all. The. Swooning. Was. Real. I'm totally wooed by the whole "falling in love via correspondence/secretly in real life too" trope so this was the perfect book for me. And yeah, if I'm being objective, some of it was over-the-top and dramatic, but I don't care. I simply don't care. 
4) ARC: Don't Forget Me by Victoria Stevens – 3.25 STARS
It's hard for me to provide an unbiased opinion on this emotional YA contemporary given the setting. This book centers on Hazel, an English teenager, who for reasons I can't reveal due to spoilers is forced to move to Australia with her "estranged" father. And while I can't relate to Hazel's reasons for traveling Down Under, I did spend several months in Oz and some of the emotions, scenes, and dialogue hit really close to home and made me flash back to a different time…a different life. This book features fantastic paternal representation and terrific friendships, but due to the dual POV, it often felt repetitive and almost preachy in its healing message. If you haven't heard of this, I encourage you to click the link and check it out. 
 5) Corrupt by Penelope Douglas – 3.5 STARS 
It's been a few weeks and I'm still struggling to put into words the experience that was reading this book. Thank goodness Mel, who does have the words (see link), was a trooper who let me rant and rave to her via Instagram during those scenes that just demanded a conversation!! This book is dark, seems to tap on EVERY TOPIC EVER that could potentially be triggering, and despite it all, I couldn't stop reading. I could not put this down. I craved answers like Rika craved fear…I mean not exactly like that…but, you get what I mean. This wasn't a typical read for me, but I've been a Douglas fan for years and am happy to check out a different facet in her oeuvre.
Switching gears, I wrapped up the month with a reread of a childhood classic. Fueled heavily by the desire to finish this before the movie's release, I was eager to dive back into Meg's world. A world it seems I have completely forgotten over the years. As I was rereading this, I kept thinking about how much of the content, verbiage, and meaning was simply lost on me as a child, which is astounding given how heavy-handed it actually is. At the end of the day, I appreciate what this was (both at the time of original publication and today), but beyond some nostalgia it didn't really make me feel anything.
---
Beyond books…
I posted:
3 TTTs: Newest Book Purchases, Love Freebie: Literary Wedding Details, and Future ReReads Inspired by Fellow Bloggers.
1 Book Event: Hope Nation Launch Party.
and
1 Wrap Up: January 2018 Wrap Up.
---
My February 2018 wrap up consisted of 6 books and an average star rating of 3.63, which is .2 higher than last month. So progress??
At the end of the day, I got 2 ARCs off the list and exclusively read books I already owned so I'm considering that a win! Have you loved/hated/meh'd any of these books? What books are you diving into in March?
And, as always, Happy Reading!
WANT TO FOLLOW ME?