Top Ten Tuesday #27
Happy Tuesday, book nerds!
I apologize in advance for the clickbait, but I want to squash this misconception as soon as possible. Yes, this post is about CATs, but not about the kind you're envisioning.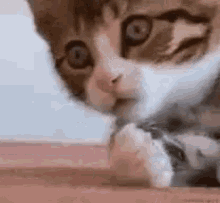 You see the CATs I'm referring to aren't felines at all, but rather the books found on my Celebrity Autobiography TBR. You know, CATs…*looks around for understanding and agreement*…shush, I'm sure other people call them that. Anyways, this post was sparked by two things:
I wasn't really feeling this week's TTT prompt

and

Over the weekend I saw the new Whitney documentary with my bestie and was BLOWN away by the emotions it evoked and by the things I NEVER knew about her life.
This is one of the only documentaries out there that had access to the family (and the assumed truth). Seeing this movie made me think about the autobiographies sitting on my shelf that have some of my icon's stories just waiting to be read — in their (or their secret ghostwriter's) words. So for this week's  round of TOP TEN TUESDAY hosted by Jana at ThatArtsyReaderGirl
I'm listing the TOP TEN CELEBRITY AUTOBIOGRAPHIES on my TBR!
---
Notable quote: "Comfort can be dangerous. Comfort provides a floor but also a ceiling."
Notable quote: "…write your own part. It is the only way I've gotten anywhere. It is much harder work, but sometimes you have to take destiny into your own hands. It forces you to think about what your strengths really are, and once you find them, you can showcase them, and no one can stop you." 
*I discovered via searching quotes that her sophomore novel is more quotable, but this is one is more entertaining.*
Notable quote: "Just remember that Dumbo didn't need the feather; the magic was in him." 
*You could quote this ENTIRE book* Picking one line was simply unfair.
Notable quote: "That's why I think my life turned out as good as it has. Because all the time, I'm just trying to have fun." 
Notable quote: "There is no "right" way to be. I am flawed and imperfect, but am uniquely me. I don't fit in and probably never will. And I don't have to try to anymore. That other person was a lie. And let's face it, normal is boring. We all have something to offer the world in some way, but by not being our authentic selves, we are robbing the world of something different, something special." 
Notable quote: "Remember: the amateur works until he can get it right. The professional works until he cannot go wrong." 
Notable quote: "I am not lucky. You know what I am? I am smart, I am talented, I take advantage of the opportunities that come my way and I work really, really hard. Don't call me lucky. Call me a badass." 
8) Scar Tissue by Anthony Kiedis & Larry Sloman (Collaborator) 
Notable quote: "When you start putting pen to paper, you see a side of your personal truth that doesn't otherwise reveal itself in conversation or thought." 
Notable quote: "I gave up on being Nice. I started putting more value on other qualities instead: passion, bravery, intelligence, practicality, humor, patience, fairness, sensitivity. Those last three might seem like they are covered by "nice," but make no mistake, they are not. A person who smiles a lot and remembers everyone's birthday can turn out to be undercover crazy, a compulsive thief, and boring to boot. I don't put a lot of stock in nice. I'd prefer to be around people who have any of the above qualities over "niceness," and I'd prefer it if that applied to me, too."
Notable quote: "The work you put in when no one is watching will matter far more than the work you do when the cameras are rolling." 
---
So I definitely veered far from the path this week with my TTT selections, but I hope you enjoyed the post nonetheless! Have you read any of these celebrity autobiographies? Did any MUST READS miss my list?? Let me know below! 
And, as always: Happy Reading!
WANT TO FOLLOW ME?