Happy Friday, my fellow book nerds! 
After wrapping up some blog touring responsibilities yesterday, I've been in a big non-required reading mood. The good? I have plenty of options to pick from and 2 weeks before my next tour assignment is due.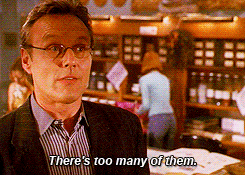 The bad? The multitude of options are making me super indecisive. So I'm asking for HELP from you, my fellow readers. Comment below your most recent 5-Star read to inspire my weekend reading! If you make it sound good and I own it, I'm going to use it! And if you give me lots of options I'll TBR cup it! Thank you, in advance, for your help guys! ❤
---
Assuming you're not just leaving me a book rec and bailing, stick around and check out this week's:
What's it about? First Lines Fridays is a weekly feature for book lovers hosted by Wandering Words where we dare to ask: What if instead of judging a book by its cover, its author, or its prestige, we judged it by its opening lines? 
HOW IT WORKS? 
PICK A BOOK OFF YOUR SHELF (IT COULD BE A CURRENT READ OR ON YOUR TBR) AND OPEN TO THE FIRST PAGE.

COPY THE FIRST FEW LINES, BUT DON'T PROVIDE ANY OTHER DETAILS ABOUT THE BOOK JUST YET — LET'S SEE IF IT HOOKS THE READER IN!

FINALLY…REVEAL THE BOOK!

---
READ ON TO DISCOVER THIS FRIDAY'S SOURCE:
A young, street-savvy runaway looking for a place to call home realizes he might have conned his way into the wrong family in this fast-paced and thrilling novel from award-winning author Cristin Terrill.
When ten-year-old Daniel Tate went missing from one of California's most elite communities, he left no trace. He simply vanished.
Six years later, when he resurfaces on a snowy street in Vancouver, he's no longer the same boy. His sandy hair is darker, the freckles are gone, and he's initially too traumatized to speak, but he's alive. His overjoyed family brings him home to a world of luxury and comfort he can barely remember. In time, they assure him, he'll recover his memories; all that matters now is they're together again.
It's perfect. A miracle. Except for one thing.
He isn't Daniel Tate.
He's a petty con artist who accidentally stumbled into the scam of a lifetime, and he soon learns he's not the only one in the Tate household with something to hide. The family has as many secrets as they have millions in the bank, and one of them might be ready to kill to keep the worst one buried.
---
MY THOUGHTS

:
I've been selecting a lot of ARCs recently so I decided to post an "oldie, but goodie" as today's FLF. I read this twisty mystery last year and absolutely adored it! In fact my original review simply stated: "Y'all its been two days and I'm still not confident I know the truth…" Eventually I expanded on that (click here), but this book, its non-reliable narrator, and that ending have stuck with me. And that ending…that last line y'all. Well, don't say I didn't warn you!
---
Hope you enjoy the blast from the past selection this week. Have you read Daniel's tale? If you have PLEASE message me so we can discuss your spoilery thoughts! If you haven't, does this first line draw you in? Let me know below!! And please don't forget to leave me your most recent 5-Star read/rec! Have a wonderful weekend, loves! 
And, as always: Happy Reading!
WANT TO FOLLOW ME?