Happy Thursday, book nerds!! 
So I'm not going to lie after being out all night (thanks to The Goo Goo Dolls concert) I'd normally be dragging. I'd be on sleepwalk mode counting the hours until I could be back in my cozy bed.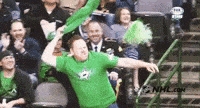 However, that's not the case today because I've got pure excitement (and my trusty coffee) fueling me this morning. Why am I so excited you ask? Because IT'S THE START OF HOCKEY SEASON! I simply cannot wait to be back in my arena cheering on my STARS. Fun Fact: This gif is basically a calmer version of me during game play! 😉 Jokes aside, let's move on to the purpose of this post: my September 2018 Wrap Up!
---
September Reads (Full RsTC):
1) Fence Vol. 1 by C.S. Pacat & Johanna The Mad (Illustrator) – 4.5 STARS  
Don't judge, but this was my FIRST cover-to-cover read of a graphic novel/webcomic. It's a super beloved art form that has remained largely underappreciated in my lifetime. But fear not, book nerds, because this diverse and adorable series has shown me the error of my ways. I picked this up on a whim (after being inspired by Mel's IG feed) and before I knew it I was wrapping up Vol. 1. I loved the story, the characters, and the incredible artwork. I can't wait to see what's in store for these angsty rivals next.
2) Foolish Hearts by Emma Mills – 4.25 STARS
So Emma Mills is one of those authors that people capital A Adore. And after reading my first Mills book (First & Then) I simply didn't get it. Her story was cute, but not great. However, several of her loyal fans urged me to pick this title up and I couldn't be more grateful. This sugary sweet novel had everything I love about high-school-based contemporaries: good friendships and family bonds, a theater subplot, fangirling, and a goofy, grin-inducing male lead that had more swagger than any teenage boys I ever encountered in my youth! If it weren't for some of the idiotic actions of our female lead I would have rated this higher, but at the end of the day this was a breezy way to wrap up ContemporaryAThon.
3) ARC: Dear Evan Hansen by Val Emmich – 3.75 STARS
Thanks again to Lilly, I was blessed with an ARC of this complicated and emotional story. And while I'm thrilled to get new insights into a musical I'm fond of, I'm struggling to separate my opinions of the two mediums. I do believe this book could work as a standalone for new readers unfamiliar with the story line, as well as enhancing the understanding for fans of the show. But I also believe that the story doesn't pack the same punch without the music. I really wish they had included a footnote on the chapters/pages where the lyrics are featured so that new-to-the-show readers could listen after reading said section to get the full experience. I'm hoping this rambling all makes sense lol.
As a native Texan, I'm always looking for new things to do in my local stomping grounds. When I was approached for a blog tour to review this travel guide I immediately said yes, and can't believe all the new & exciting places I found to explore. If you're interested in my full thoughts check out my review here!
Guys I'm at a total loss. I've never read a book that has given me such a hard time when it comes to the rating and reviewing process. If you're unfamiliar with this award-winning story it centers on a man in his 20s falling in love with a neglected and abused 8-year-old girl. The story spans more than a decade and depicts how their relationship evolves from stand-in father figure, to crush, to love, and so on. The story is challenging, thought provoking, devastating and — at times — disgusting. So much of me wants to write the novel off because I can't fully support this duo despite how heart wrenching their journeys were. But the other part of me can't deny that this was extremely well-written with a cast of characters that felt like they lived, grieved, and loved off the page. IF you've read this, please DM or comment so I can complete this thought process with some much-needed discussion.
I've said it before and I'll say it again: I have zero chill when it comes to new CL titles. If I don't get ARC approval, I purchase within the first week of publication and read immediately, which was pretty much the case with J&H. And while this wasn't a perfect read for me, it was extremely enjoyable. I laughed out loud at Hazel's quirky nature, swooned during the friends-to-lovers banter, basked in the steamy hallway encounters, and appreciated the overall lighthearted content. The ending suffered from "too much too soon" syndrome, and used a plot device that I despise when it comes to will-they/wont-they romances. Throw in 2 incidents that I felt were more for shock-value than substance and that's how I landed at 3.75 stars.
7) All The Rage by Courtney Summers – 3.5 STARS
Although I didn't enjoy this as much as Sadie, All The Rage still packs some heavy-hitting — and potentially triggering — content. This novel realistically paints all the rage-inducing consequences that coincide when a rape victim speaks out to deaf — and unwilling — ears. Full of scenes and lines that made me sick to my stomach, this story goes hard on victim shaming, doubt, blame, and other topics that are vital and necessary for today's readers. There were a few hiccups for me in terms of clear timelines (probably because of the third person narrative during certain scenes), and a story that didn't altogether match the synopsis, but at the end of the day I do believe Summers' work will make you feel. Shock. Shame. Reflective. And — hopefully — more conscientious about how you handle an accusation the next time you hear it.
Gideon might have stolen my teenage heart (see #2), but Jonah…Jonah is now the new (and very adult) standard. It's been weeks and I'm still thinking about the cabin. For real though, please don't let my fangirling of the Viking sky cowboy mislead you or keep you from getting your hands on this beautiful novel because it is everything. A scenic story set in the Alaskan wilderness about love, loss, family, and what can happen when you put 100 percent effort behind your actions. This story made me laugh, cry, and filled me with such a sense of wanderlust. Whether you're looking for a new favorite read or your next book boyfriend, I can't recommend this enough!
---
Beyond books…
4 Top Ten Tuesday posts: Binge With Me – TV Edition, Hidden Gems – Underrated & Under Reviewed, FALLing into my Autumn 2018 TBR, & Books I Haven't Read — YET — From 5-Star Authors
2 First Lines Friday posts: – FLF #8 & FLF #9 – Can't disclose titles obviously 😉
2 Blog Tours & Reviews: Love & Other Secrets & 100 Things To Do In DFW Before You Die
2 ContemporaryAThon Posts: TBR & Wrap Up
1 Book Chat: Are Offensive Books Acceptable Based On Time Or Genre?
1 Book Haul: August 2018 Book Haul
and
1 Wrap Up: August 2018 Wrap Up
---
Well that's September in a nutshell! How was your month? Did you hit your goals? Did we read any of the same titles? Have you read, loved, or hated any of the ones I crossed off my list? Which features would you like to see more of next month? Let me know below!  
And, as always, Happy Reading!
WANT TO FOLLOW ME?