Top Ten Tuesday #36
Happy Tuesday, book nerds!
So unfortunately I wasn't very blog focused this past weekend. I started the month pretty strong with reads, posts, and commentary, but allowed myself to slip into a little slump during week 2.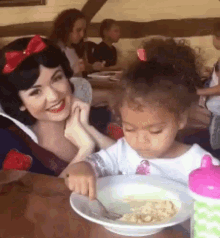 I don't know what it was, but there was just a block; a lack of inspiration. I felt like the whole community was Disney princess mode: smiling, happy, and delivering stellar content. While I, on the other hand, was this small, apathetic child that's having none of it. I know I should have be posting, and I know I have tons of back-list content to post, but it just wasn't coming together. Maybe it's because I'm feeling stuck in my personal/professional life and that's rolling over into my blogging life?? I don't know. Regardless, it's time to move on and I appreciate you reading through my woes. I don't know about y'all, but I think we always feel better once we write out our feelings so I guess that's what I'm doing. So thanks and here's hoping I get out of this funk and have a more solid week 3.
---
Moving on and perking up, let's check out this week's TOP TEN TUESDAY post!
Hosted by Jana at ThatArtsyReaderGirl, this week's topic is devoted to "Bookstores/Libraries I've Always Wanted to Visit." However, I've never made such a list, and I'd feel like a phony posting 10 just-researched locations. Instead, I'm going to go with last week's topic, which I somehow skipped. So let's dive in to my week-late list of TOP TEN LONGEST BOOKS I'VE EVER READ! 
*I should point out that I'm certain I've forgotten a title here or there, but based off my Goodreads account these are the 10 tomes that fit the bill. Also I've limited my selections to one title per series to display some variety.*
---
"A reader lives a thousand lives before he dies. The man who never reads lives only one." 
"We've all got both light and dark inside us. What matters is the part we choose to act on. That's who we really are." 
3) Outlander by Diana Gabaldon – 850 Pages
"Oh, aye, Sassenach. I am your master . . . and you're mine. Seems I canna possess your soul without losing my own." 
4) Breaking Dawn by Stephenie Meyer – 756 Pages 
"I'm just here to be your friend. Your best friend, one last time." 
*Not going to lie finding a quote for this one…well, the struggle was real…*
"Only you can decide what breaks you, Cursebreaker. Only you." 
"What no one tells you is that the road to accomplishing your goals isn't a straight line; it looks more like a corn maze. You stopped, you went, you backed up, and took a few wrong turns along the way, but the important thing you had to remember was that there was an exit. Somewhere." 
7) Illuminae by Amie Kaufman & Jay Kristoff – 602 Pages
"The universe owes you nothing, Kady. It has already given you everything, after all. It was here long before you, and it will go on long after you. The only way it will remember you is to do something worth remembrance." 
8) The Book Thief by Markus Zusak – 552 Pages
"A snowball in the face is surely the perfect beginning to a lasting friendship."
*Every other quote made me too sad…*
9) Allegiant by Veronica Roth – 526 Pages
"And I know, without being told, that's what love does, when it's right — it makes you more than you were, more than you thought you could be."
10) The Night Circus by Erin Morgenstern – 512 Pages
"Someone needs to tell those tales. When the battles are fought and won and lost, when the pirates find their treasures and the dragons eat their foes for breakfast with a nice cup of Lapsang souchong, someone needs to tell their bits of overlapping narrative. There's magic in that. It's in the listener, and for each and every ear it will be different, and it will affect them in ways they can never predict. From the mundane to the profound. You may tell a tale that takes up residence in someone's soul, becomes their blood and self and purpose. That tale will move them and drive them and who knows what they might do because of it, because of your words."
---
That concludes my list of longest-read titles! Have you read any of these big books? Did you recognize the quotes? Are any of these books on your TBRs? Let me know below!!
And, as always: Happy Reading!
WANT TO FOLLOW ME?