Happy Friday, book nerds!
So outside of the review I posted on Monday, it's been rather quiet on here because my social life took over this week! I'm sorry, y'all, but it's just been too exhausting with back-to-back-to-back late nights out to get around to editing posts. If you follow me on IG or Twitter (links below) you've been more privy to my social calendar, but if you don't, maybe the details below will help you forgive me! This has been my week in a nutshell:
*DISCLAIMER: I am

NOT

stating the following as a way to brag, complain, or any other gross thing like that. I'm HYPER AWARE that I am beyond fortunate and blessed to be able to do the things listed below, and am just stating it purely so you see why my blog took the back burner this week.* 
MONDAY – Hubby's first free night after SIX WEEKS of night classes was devoted to a "stay-in date night" consisting of dinner and Netflix's The Haunting of Hill House. I am beyond invested in this show now. I hope it finishes strong!!
---
TUESDAY – Spent the evening with the Dallas Stars. Took in a game (and a win!!) with my dad and hubby! For those of you that don't know, hockey is my favorite sport, the Stars are my favorite team, and I absolutely adore going to games with my dad. He's about to have BOTH knees operated on so it's important for me to enjoy these games with him before his rehabilitation prevents it.
---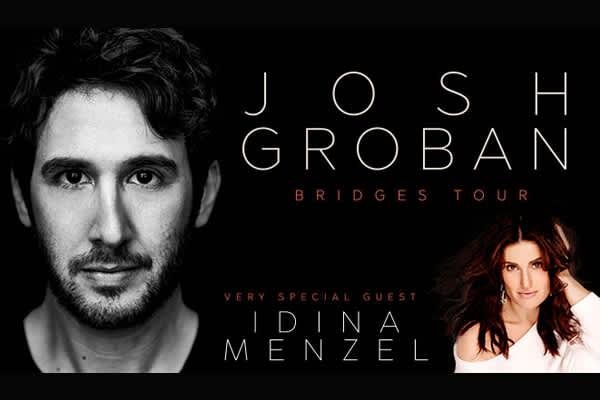 WEDNESDAY – Went to the Idina Menzel & Josh Groban concert with one of my girlfriends. Beyond the fact that Menzel is one of my favorite Broadway divas (there were tears, y'all), Groban is one of my grandmother's all-time favorite singers. We got these tickets to surprise her, but due to health reasons she wasn't able to fly down from Canada to attend. I still went and basically filmed the whole thing so she could enjoy from afar! ❤
---
THURSDAY – Attended author Julie Kagawa's author meet & greet at the Irving Public Library. We were treated to Kagawa reading a chapter excerpt from Shadow of the Fox aloud (see IG), Japanese ghost stories/urban legends, fun facts about her writing process, Laini Taylor fangirling, and a signing.
---
FRIDAY – Found out I'll be attending Kevin Hart's Irresponsible tour tonight, which I was definitely not prepared for, but super excited to make happen! I've never been to a comedian's show at a big venue so I'm excited to see what's in store!
---
SATURDAY – I have a brunch date with my girlfriend's in the morning where one of them is announcing some super exciting news!! And then dinner, pumpkin carving, and general Halloween tomfoolery with the family on Saturday night.
---
SUNDAY – I'll be going to Posty Fest to see Post Malone as an early Christmas present for my hubby. There's apparently a whole line up of "surprise" artists as well as the ones already listed, but it's not 100 percent my scene so as long as he's happy I'm good! But for real wish me luck y'all because by this point it'll be a miracle if I'm still awake!
---
So yeah, been blessed and busy! But not too busy to dive into today's meme of choice!! That's right it's time for another round of:
What's it about? First Lines Fridays is a weekly feature for book lovers hosted by Wandering Words where we dare to ask: What if instead of judging a book by its cover, its author, or its prestige, we judged it by its opening lines? 
HOW IT WORKS? 
PICK A BOOK OFF YOUR SHELF (IT COULD BE A CURRENT READ OR ON YOUR TBR) AND OPEN TO THE FIRST PAGE.
COPY THE FIRST FEW LINES, BUT DON'T PROVIDE ANY OTHER DETAILS ABOUT THE BOOK JUST YET — LET'S SEE IF IT HOOKS THE READER IN!
FINALLY…REVEAL THE BOOK!


---
READ ON TO DISCOVER THIS FRIDAY'S SOURCE:
---
SYNOPSIS

:
Sasha Stone knows her place—first-chair clarinet, top of her class, and at the side of her oxford-wearing boyfriend. She's worked her entire life to ensure that her path to Oberlin Conservatory as a star musician is perfectly paved.
But suddenly there's a fork in the road, in the shape of Isaac Harver. Her body shifts toward him when he walks by, her skin misses his touch even though she's never known it, and she relishes the smell of him—smoke, beer, and trouble—all the things she's avoided to get where she is. Even worse, every time he's near Sasha, her heart stops, literally. Why does he know her so well—too well—and she doesn't know him at all?
Sasha discovers that her by-the-book life began by ending another's: the twin sister she absorbed in the womb. But that doesn't explain the gaps of missing time in her practice schedule or the memories she has of things she certainly never did with Isaac. As Sasha loses her much-cherished control, her life—and heart—become more entangled with Isaac. Armed with the knowledge that her heart might not be hers alone, Sasha must decide what she's willing to do—and who she's willing to hurt—to take it back.
---
MY THOUGHTS

:
I'm not going to lie this is a polarizing read, but it's chock full of those creepy, spooky vibes I'm usually looking for this time of year! I read this twisted thriller more than a year ago and I STILL find myself thinking about some of the messed up ish that went down in this book. Some of y'all will love it. Some of y'all will absolutely hate it. Either way you'll remember it! If you want to know which side I landed on check out my full review here!
---
Has anyone else read this ominous tale? Have you considered picking this up for the Halloween season? What are your thoughts? Let me know below! Have a wonderful weekend, loves! 
---
And, as always: Happy Reading!
WANT TO FOLLOW ME?