Hello again, book nerds!! 

As you know from this morning's post (which, again, was supposed to be yesterday evening's post), I'm a wee bit behind on my #HolidayADVENTuring.
BUT it's very, very important to me that you don't take MY tardiness out on these INCREDIBLE creators because they are some of the most talented and wonderful people I've encountered since I started my blogging journey!
So if you haven't read today's earlier post about my boy, Sol, click this link ASAP, and then return to read about this evening's super skilled blogger!
For my new followers (hi, welcome! 😊) who might be new to my holiday-themed series, or have missed out on the previous posts, here's a quick recap for you:
From Dec. 1 to Dec. 25, I'll be highlighting

one

content creator that has made an impact in my bookish life. Each post will feature a mini bio on the day's selected star, all of the links to their fabulous content, and a special holiday-themed glimpse into their lives.
I'm very curious to see which creator is behind door #13 on my

 Holiday

 

ADVENT

ure, 

aren't you?
It's…
Scrill 

from 

Vicariously & Voraciously

!
Priscilla, or Scrill, as I've come to know her is one half of a newer friendship I've had the pleasure of making in 2018!
She's also one half of joint book reviewing blog that launched its very OWN DOMAIN just recently! Like three weeks ago recently!!
And guys, it's stunning!!! I've tried to delay Scrill's post since they've been working nonstop to transfer content over, but please go check out the progress they've made because the aesthetics are calming, and perfect, and just everything!
Scrill does two things on her blog that I particularly adore! First, she shares glimpses into her reader life via her gorgeous Bujo (bullet journal) spreads. Few things make me want to organize my life quite like seeing some of her beautiful pages. And second, she completes every one of her thoughtful reviews with a music video featuring a song that reminds her of the story. How freaking cool is that? Not only does she inspire reads, but she influences my Spotify playlists, too!! And goodness knows I've bonded with my YA/SFF-loving girl over music and our shared love for "emo" tunes.
If you're looking for a truly good person to follow and befriend, give Scrill's platforms some attention because she's a true gem!
* BLOG * BOOKSTAGRAM * TWITTER * GOODREADS *
1)

What is your favorite thing to do around the holidays/favorite holiday tradition?
Puzzles! When I was growing up I went to my grandma's house a lot for Christmas. There wasn't a whole lot to do there, but there were always puzzles, so I learned to love them at a young age.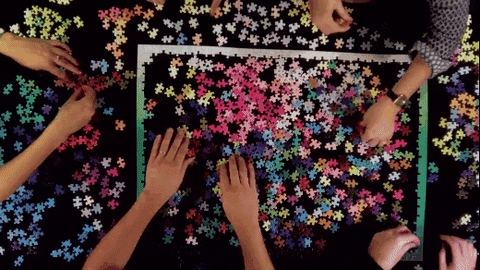 She died in 2005 (RIP) and since then my mom continued to buy a puzzle every year for us to do. Now mind you, I am a type A person, so I am really organized and particular about how I do puzzles. So I am not the best person to do a puzzle with because I like to organize the pieces a very particular way and bark at you if you mess it up. But I also love sharing the time with people, so I do my best not to be a jerk.
2)

What is your favorite holiday scent? Or favorite holiday movie if you don't have a fave scent? 
The obvious answer is baking cookies right? I like the smell of simmer pots, particularly with cinnamon. Like Cinnamon, apple slices, oranges, & cloves. It is utter perfection to my nose.
3)

What is your favorite holiday drink or dish?
Another grandma story. Every time we visited she would make nanaimo bars. If you have a sweet tooth like me and haven't had the opportunity to have one of these little bites of heaven. So delicious, but heed with caution, they're like a million calories a bite!
4)

What is your favorite holiday jam?
This is hard, because I worked in the mall for many years, so I for the most part loathe Christmas music. But if I had to pick one, it would be Frank Sinatra's "Have Yourself a Merry Little Christmas."
5)

What is the number 1 book you hope Santa/family friend brings you?

Hands down definitely a copy of Bloodwitch by Susan Dennard.
6)

What is something you're thankful for in 2018?
I finally got a new car. I have been driving around this 2001 VW GTI that was slowly falling apart in every aspect. I snagged an amazing deal on such a hot gently used car, and I love it. I not only feel safer, but damn, if my Jaguar F-Pace isn't one sexy car. Now, don't go judging me for getting a luxury car, this girl has two jobs so she can pay for it, and like I said, I got an amazing deal.
7)

What's one of your goals for 2019?
Travel – this includes more hiking (see stunning photo from profile section) or literally getting out of dodge. I am long overdue for a trip to Japan again! I doubt that's in the cards since I have a car to pay off, but a girl could dream right?
There's your second serving of my #HolidayADVENTure for the day! I hope you explore the talented Scrill's pages and have enjoyed learning how she celebrates the holidays! I'll be back tomorrow with another double posting so come back and see me, won't you? Happy holidays and happy reading!
WANT TO FOLLOW ME?