What's going on, book nerds?? 

As you can probably tell I took the ENTIRE DAY OFF yesterday. Not from work, chores, or Christmas shopping, but I did take some time away from the blog.
On the one hand I feel bad because I don't want my delayed creators to think it's for lack of motivation or inspiration on my part, because that's obviously not the case! On the other hand it's hard to feel guilty for "unplugging" in order to spend some solid quality time with my loved ones sans computer. With the frenzy of the season, blog tours, ADVENTuring, and more, it was nice to just be able to push aside deadlines (for a day) and laugh along to Suits with my hubby.
That being said, I did wake up SUPER early to ensure this would go live today! 😁
But before we dive in, here's a quick explanation of my holiday-themed series for all my new followers:
From Dec. 1 to Dec. 25, I'll be highlighting

one

content creator that has made an impact in my bookish life. Each post will feature a mini bio on the day's selected star, all of the links to their fabulous content, and a special holiday-themed glimpse into their lives.
I'm certain you're chomping at the bit, so let's go ahead and open door #17 on my

 Holiday

 

ADVENT

ure!
It's…
J.W. 

from 

Storeys of Stories

!
So remember back on Monday when I said: "I'll be back later this afternoon with a special BIRTHDAY edition of my holiday-themed series!"? Well clearly I missed that window. And even though I posted a Twitter shout out take a moment to give Joe some belated-birthday love!
I honestly don't remember the when and where of how Joe and my friendship came to be,
but I'm certain it was enhanced through our buddy read of the lighthearted classic Nevernight! 😈 Although it was a reread for me, I enjoyed it even more the second time around due to Joe's entertaining reactions via our daily Twitter chats and his First Impression Friday post — a weekly series y'all need to check out! As a self-published author (!!!!), Joe's perspective and breakdown of the plot, writing style, and theories for book 2 were next level, and I definitely look forward to continuing on Mia's bloody trail of vengeance with him! Like I said, lighthearted! 😉
When he's not writing, parenting his kiddos, working, or chatting ARC anxiety with me via Twitter, this Canadian Ravenclaw might also squeeze in some time for gaming. And as I've learned from several of these posts now, that's a pretty common — and beloved — hobby among a lot of you! So if you're looking to chat SciFi reads, witty comedy television series like Brooklyn 99 and Community, gaming, or want to learn more about his published works, send Joe a quick message on any of his platforms. He's funny and friendly, and would make an excellent addition to your blogging friend circle in 2019!
FUN FACT: Joe finishes ALL of his blog posts with an interesting fact about his life, the day, or the source of the post. Check it out below:
* BLOG * TWITTER * GOODREADS * 
1) What is your favorite thing to do around the holidays/favorite holiday tradition?

I don't think I have any traditions that have been established or even spoken aloud. But about a decade ago (I'm SO old) I went from being 'the kid' to 'the parent.' Since then, I've really come to appreciate Christmas Eve.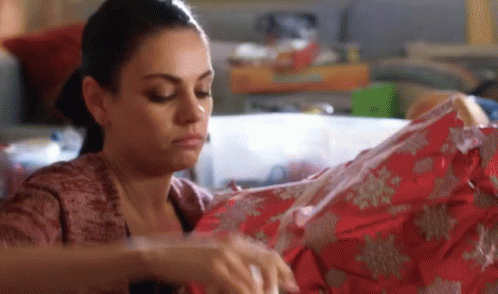 Once the kids are in bed, my wife and I get out all the gifts and wrap them. We're mostly procrastinators, so even though every year we say we're not going to wait until the 24th, it usually happens that way. We might have a drink or two, and put on Die Hard in the background (yes, Die Hard IS a Christmas movie) and we wrap until it's way too late to be thinking about getting up early with excited kids. But we do it anyway. 
2)

What is your favorite holiday scent? Or favorite holiday movie if you don't have a fave scent?

Duh! Die Hard.
If you really don't think this is a Christmas movie, reference the scene where he sends a dead terrorist down the elevator. He puts a Santa hat on the body's head and writes: "Now I have a machine gun. Ho ho ho." on the dead guy's sweater.
Santa hat! Ho ho ho!
This movie is bursting with Christmas cheer!
3)

What is your favorite holiday drink or dish?
I claim to be a big fan of eggnog. I buy it every year. And then I don't drink it. Not sure why, though. I do enjoy it. There's no other taste like it. But it always seems to sit around in the fridge until it's time to throw it away…
4)

What is your favorite holiday jam?
I'm not big into Christmas music, but there's one song that I will remember forever, and is the first song to come to mind when I think about Christmas music. "Thistlehair the Christmas Bear" by Alabama. This song would have you believe that Thistlehair's fame is right up there with Frosty and Santa, but I gotta say, I've never heard of Thistlehair anywhere other than this song. Maybe it's a Southern thing…
5) What is the number 1 book you hope Santa/family friend brings you?

Blood, Sweat, and Pixels: The Triumphant, Turbulent Stories Behind How Video Games Are Made by Jason Schreier.
I'm a lifelong video game addict, and I've been a little more interested to mixing some non-fiction into my reading. This seems a perfect mix.
6)

What is something you're thankful for in 2018?
So much. Honestly, I don't even know where to begin. 
7)

What's one of your goals for 2019?
I'd really like to give my blog a face lift. I'm not looking to change it completely. A new header image, clean up the navigation, redo the menus. The little things that make a big difference! 
Woo hoo! We're finally diving back into #HolidayADVENTure posts! I hope you guys enjoyed getting to meet Joe and got a good chuckle out of his favorite holiday film and traditions! Make sure you go check out his platforms and then COME BACK this evening to see which other international blogger is going to be revealed!! Happy holidays and happy reading!
WANT TO FOLLOW ME?