Hey there, book nerds! 
We've started another year, another round of Goodreads reading challenges, and another opportunity to come through on our good-intentioned resolutions. In regards to the latter, I vowed to rid my blog of the phrase "RTC." So I'm🤞truly hoping🤞you'll start to see more reviews on here! Up first…
Goodreads/Amazon/Barnes & Noble

My Favorite Half-Night Stand by Christina Lauren

Title & Author: My Favorite Half-Night Stand by Christina Lauren

Genre: Contemporary Romance

Release Date: December 4, 2018

Publisher: Gallery Books

Series Details: Standalone

Page Count: 367 pages

Description: "Millie Morris has always been one of the guys. A UC Santa Barbara professor, she's a female-serial-killer expert who's quick with a deflection joke and terrible at getting personal. And she, just like her four best guy friends and fellow professors, is perma-single.

So when a routine university function turns into a black tie gala, Mille and her circle make a pact that they'll join an online dating service to find plus-ones for the event. There's only one hitch: after making the pact, Millie and one of the guys, Reid Campbell, secretly spend the sexiest half-night of their lives together, but mutually decide the friendship would be better off strictly platonic.

But online dating isn't for the faint of heart. While the guys are inundated with quality matches and potential dates, Millie's first profile attempt garners nothing but dick pics and creepers. Enter "Catherine"—Millie's fictional profile persona, in whose make-believe shoes she can be more vulnerable than she's ever been in person. Soon "Catherine" and Reid strike up a digital pen-pal-ship…but Millie can't resist temptation in real life, either. Soon, Millie will have to face her worst fear—intimacy—or risk losing her best friend, forever."
---
After the hectic holiday season, I wanted nothing more than to cuddle up with a contemporary and start my reading year off right. But y'all, as much as it pains me to admit, the newest installment from one of my favorite writing duos left me wishing I had swiped left.
Okay, maybe that's a tad harsh given how easily consumable the material is/was, but several elements of this story left me wanting and simply didn't match up with my expectations, hopes, or CL's previous standards.
"I don't think I've ever been normal."
From page 1 we're introduced to our heroine main gal, Millie, and it's quickly established that she's "not like other girls." From her childhood interests in serial killers to her crew of besties (4 handsome male peers from her university), Mills is just one of the guys. And after her buds decide to join an online dating service, she's reluctantly forced to go along. But before their profiles go live, Millie lets her repressed feelings get the best of her and partakes in a half-night stand with her long-time friend, Reid.
The pair quickly decides to sweep the incident under the metaphorical rug and continue onward as planned. And after her first profile fails, Millie makes the questionable decision to create a second profile. One that allows her to be "more open" while hiding behind some somewhat sneaky layers.
And wouldn't you know, none other than Santa Barbara Ken (read: Reid), matches with this new mysterious woman. Thinking it'd be funny to send a prank reply, Millie (a.k.a. Catherine) sends Reid what she deems to be the world's most obvious proof that Catherine is in fact his best friend Millie incognito. The only thing is Reid DOESN'T get the hint, Millie DOESN'T stop sending messages from her alter ego, and the duo continues to several-night stand IRL while pursing other people online.
The biggest issue most people seem to have with this book is the catfishing element. And while I admit it's gross, it's far from unheard of in the romance genre. From films like Just One of the Guys, She's The Man, and even the beloved You've Got Mail,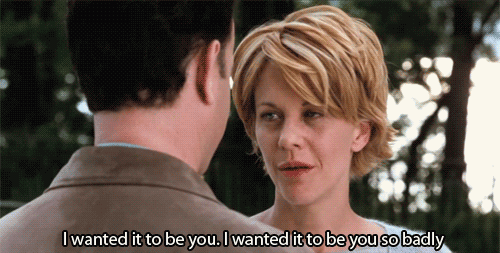 we're constantly presented with characters that lie and manipulate for the "greater good." So I truly don't know why people are beating up on Millie so dang hard when we don't even bat an eye at the characters that have "been there, done that" before her. Perhaps it's because she lacks Tom Hanks charm, or believable chemistry with her counterpart, but I don't think this story's problems lie entirely with Millie.
Several times throughout the novel Millie is chastised for her lack of honesty and openness, while her "dreamy" beau commits the same sins scot-free. After their first night together HE's the one who leaves (talk about setting the tone), HE never voices that he wants to pursue a real relationship with her (but boy does he ask her how she feels about it plenty), and HE continues to microcheat on the woman he's seemingly falling for with online suitors. That's right. Plural. So yeah, some real winners here. And while we could go back and forth on which character's actions were worst or justified, at the end of the day neither really had me in their corner. And when you don't care about the characters it's really hard to care about their story.
Ultimately…
My opinion seems to be in the minority on this one so if you're a fan of CL, quick romance reads, or want to see whether you're #TeamMills or #Team Reid, give this book a chance. And when you do, let me know if our reviews would match up below!
---
WANT TO FOLLOW ME?