Top Ten Tuesday #46
Hey there, book nerds!
I'm going to keep this short and sweet since I'm running late for work, but I had a pretty good day yesterday. I got to sell off some old office furniture, which is going to help me make a dent in some of those #adulting payments you've read about in recent posts! Take that, bills!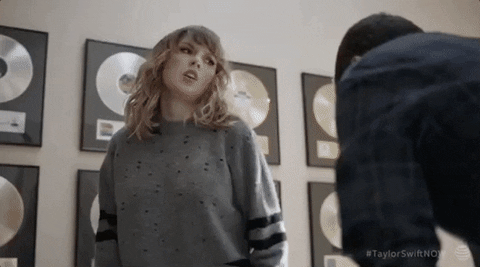 Plus I got about 65% of the way through my first book for Contemporary-A-Thon! Huzzah!⬅️That's a hint for the book I'm reading! Any guesses??
The only downside is that I'm having to put the book down RIGHT as it's getting to the romance part! Curses! *Waves angry fists to my time management skills* Oh well…
But let's go ahead and get to the reason for today's post, shall we?
---
Are y'all ready for another round of TOP TEN TUESDAY?
Hosted by Jana at ThatArtsyReaderGirl, this week's topic is "Books On My Fall 2019 TBR." And while this prompt is usually one of my favorites of the season, I feel like my choices would be rather obvious (and repetitive) given my recent hauls. You know: Darkdawn, There Will Come a Darkness, The Ten Thousand Doors of January, The Grace Year, The Queen of Nothing, Ninth House, The Starless Sea, Serpent & Dove, Gideon the Ninth, and Rules for Vanishing. And to spare y'all from reading the same fangirling messages from me, I decided to continue on with my color theme instead.
As with the previous weeks' color-inspired lists, I'll be highlighting the top titles I've read and the top titles on my TBR that feature the week's selected color. I've done RED reads and ORANGE selections and now it's time for one of my favorites: YELLOW!
This list was the hardest to narrow down yet, so let's see which books made the cut for my Top Ten YELLOW Reads!
---
The Read Yellow Books:1) Sky in the Deep by Adrienne Young
Released:

04/24/18

★ Current Rating:

4.02

★ Read Date:

05/22/18

*
Opening lines: "'They're coming.' I looked down the row of Aska hunched against each other, ducking behind the muddy hill. The fog sat on the field like a veil, but we could hear it. The blades of swords and axes brushing against armor vests."
*Read multiple times*
---
Released:

10/29/13

 ★ Current Rating:

4.18 

★ Read Date: 

01/03/17
Opening lines: "When I was ten years old, I wrote a letter to my future self and buried it in my backyard. Seventeen years later, I remembered that I was supposed to remember to dig it up two years earlier. I looked forward to getting a nostalgic glimpse into my childhood — perhaps I would marvel at my own innocence or see the first glimmer of my current aspirations. As it turns out, it just made me feel real weird about myself."
---
Released:

04/04/16

 ★ Current Rating:

4.03 

★ Read Date:

04/29/16

*
Opening lines: "'Ella, you're wanted in the principal's office,' Ms. Weir says before I can step inside her precalculus classroom. I check my watch. 'I'm not even late.' It's one minute before nine and this watch is never wrong. It's probably the most expensive item I own. My mom said that it was my dad's. Besides his sperm, it's the only thing he left behind."
*Read multiple times*
---
Released:

05/14/19

 ★ Current Rating:

4.03 

★ Read Date: 

05/22/19
Opening lines: "In the calm before the storm — in this case, the blessed quiet before the bridal suite is overrun by the wedding party — my twin sister stares critically down at a freshly painted shell-pink fingernail and says, 'I bet you're relieved I'm not a bridezilla.'"
---
Released:

02/28/16

 ★ Current Rating:

4.33 

★ Read Date: 

03/05/17

*
Opening lines: "I was going to murder his ass. One day. One day long after I quit, so no one would suspect me."
*Read multiple times*
---
Released:

10/10/17

 ★ Current Rating:

4.35 

★ On TBR Since:

01/02/18
Opening lines: "The U-Haul truck opens its sliding door for the first time since Adeline, Kentucky, unleashing the stale air from the small southern town that used to be Grace Salter's home, back when her mother was still a dutiful Baptist church leader (though not technically a "pastor," because as a woman in church belonging to the Southern Baptist Convention, she could not technically claim the official title, nor its significantly higher pay grade, even with her PhD in Ministry and more than a decade of service.)"
---
Released:

05/16/17

★ Current Rating:

4.01 

★ On TBR Since:

06/21/17
Opening lines: "From my bedroom window, I watch the ghost flutter. She shifts and warbles in the dark yard, her pink sheen caught in moonlight. I wonder if she's looking up at the spread of stars or if she's facing the farmhouse, watching us. Maybe things like her don't have eyes. Maybe they wander, unseeing, through the world."
---
Released:

09/10/19

 ★ Current Rating:

4.09 

★ On TBR Since: 

06/18/19
Opening lines: "Well, I have two names. That's what I say when people ask me what my middle name is. I say: Well, I have two names."
---
Released:

01/10/17

 ★ Current Rating:

4.30 

★ On TBR Since: 

02/06/17
Opening lines: "There is a room in this school that no one knows about but me. If I could teleport, I'd be there now. Maybe if I just concentrate–"
---
Released:

02/09/16

 ★ Current Rating:

4.30 

★ On TBR Since:

03/06/18
Opening lines: "My big brother reaches home in the dark hours before dawn, when even ghosts take their rest. He smells of steel and coal and forge. He smells of the enemy."
---
Well that wraps up my

YELLOW

-themed Top Ten Tuesday! Have you read any of these

YELLOW

 titles? Are any of these books also on your TBR? Did I forget to include your favorite YELLOW

 

read?  Let me know below! 
And, as always: Happy Reading!
WANT TO FOLLOW ME?