Afternoon, book nerds!
It's been a tiny bit since I last checked in and all I can say is: I'm sorry, I've been busy.
Beyond the fact that my hubby has actually been in town these past two weeks (read: all that quality time😊), I've also been going to game nights, wedding receptions, way-past-due brunches with girlfriends, movies with the boo, and spending any and all extra time at the hospital with my best friend.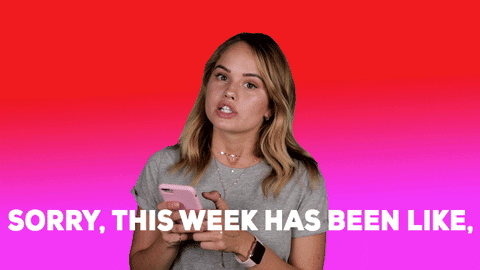 For those that don't follow my other social media platforms (click the handy links at the bottom of this post to do so), you might not know that my best friend is currently pregnant and on bedrest at the hospital to monitor her sweet baby girl until delivery. She's currently at 28 weeks and we're accepting all forms of well wishes, prayers, and kind thoughts on her — and baby girl's — behalf.
In addition to life in general, thanks to a certain beloved friend who shall remain nameless 😂, my book-reading schedule just got way more intense as well! You see, that "unnamed" buddy let me know that Macmillan opened up their catalog again on Edelweiss (read: made all their titles available to download!!!!!). Apparently this wasn't for everyone (truly sorry if you weren't included 😞), but it DID work for me, and thus my TBR hill just became a TBR mountain.
So I'm off to read, but you should definitely stick around for the rest of this post! 😛
---
Let's refresh your memory:
Contemporary-A-Thon is a (you guessed it) contemporary-themed readathon hosted by Chelsea (Chelseadolling reads), Julie (Pages and Pens), Natasha (Myreadingisodd), and Melanie (MeltotheAny)!
Consisting of seven challenges (see below) ROUND 5 of Contemporary-A-Thon ran from Monday Sept. 23rd through Sunday Sept. 29th. Yes, it wrapped up almost a month ago, but like I said: I've been busy!! Scroll on down to see how I did in terms of tackling my ambitious TBR and crossing off those challenges!
---
1) Read A 2019 Contemporary Release – COMPLETED! ✔️

Although several of the books I read for Contemporary-A-Thon would have worked for this prompt, I'm happy to report that I not only accomplished this task, but I did so with the book I had originally paired with this challenge! This unique contemporary was my first foray into Emma Scott's writing and I truly see the appeal: the leads were lovable, their relationship was stan-able, and their steamy scenes were definitely enjoyable. However, I was SUPER uncomfortable with the abuse plot line, and bothered — at times — by the overall intensity of some of the characters and their actions. Although this wasn't my favorite read of the week, it was a touching story, and one I'm glad this readathon inspired me to pick up.
---
2) Read A Contemporary W/ 

YELLOW

 On The Cover – COMPLETED! ✔️

So far we're two for two, y'all, because I actually read the book I initially matched with this prompt too!! Praise bless! This diverse contemporary was my second encounter with Acevedo's writing and solidified me as a forever fan. Everything about this book is beautiful: the cover, the prose within its pages, the illustrated recipes, and that cover! I know I already said that one, but just look at it!😍Jokes aside, I listened to an audiobook of this title (courtesy of Hoopla) while following along in my physical ARC because Acevedo's storytelling ability is nothing short of magical. Equally calming and captivating, her cadence truly elevates the poetry of the material and enhances the overall reading experience. If you have the ability to do the same, I'd strongly encourage you to do so!
---
3) Read A Diverse Contemporary – COMPLETED*

Here's the deal: I did read a diverse contemporary (see #2) so the prompt was, in fact, completed! However, I did not read the diverse contemporary that I had paired with this challenge at the start of the week. Thus the asterisk. And not reading this Shakespearean retelling truly is a shame because it was the only buddy read on my entire list! 🤦 Plus, it's written by an author whom I've adored in the past. Like I said: shame, shame, I know your name! Here's hoping when I get out from under the ARC mountain (see intro) that I'll find a quiet weekend to cross this title off my list!
---
4) Read A Contemporary W/ An Illustrated Cover – COMPLETED! ✔️

I'll admit I dropped the ball on the book for prompt number 3, but luckily, I picked it back up and ran with it for prompt number 4! That's right I not only read several books with illustrated covers, but I also read the illustrated cover intended for this challenge! Woo hop! In fact, I was so excited to read this BOTM selection that I made it my first official read for this round of Contemporary-a-thon! And it did not disappoint! From the Renaissance Faire setting to the charming characters there was a lot to love about this debut novel! It was addictive, entertaining, and gave me serious Once Upon A Time vibes! I did have a few tiny issues with the "conflict" of the story, but beyond that this was overall a very satisfying way to spend the day!
---
5) Read A Dark/Hard-Hitting Contemporary – COMPLETED! ✔️

Although a trio of books I read throughout this readathon would have worked for this particular challenge, I'm glad I completed the emotional contemporary I had slated for this prompt. I'm not a stranger to McGinnis' dark works, and let me tell you, this story is anything but light. This realistic novel was extremely eye opening to me as a reader who hasn't encountered the opioid crisis firsthand, and truly made me feel uncomfortable, sad, angry, and every emotion in between. It's an incredibly vivid story that felt real and raw, but one I'd encourage even the strongest of friends to take caution before diving into due to loads of graphic triggers.
---
6) Read A Contemporary With Plants On The Cover – COMPLETED*

Oh man, that dreaded asterisk. As with prompt number 3, I did technically complete this challenge with two separate titles (With The Fire On High & Well Met), but, unfortunately, it was not with the title established on my Contemporary-A-Thon TBR. I had every intention on reading this sports-themed contemporary (ironically enough) at a baseball game, but with it being date night/the last night game ever at that stadium, I decided against it! I still think the premise sounds adorable and with a drop date just around the corner (read: three weeks away!), odds are I'll be reading this eARC sooner than later.
---
7) Read A Contemporary That Is Beloved By A Member Of The Book Community (And Shout Out The Creator) – COMPLETED! ✔️

Wrapping up this wrap up, I bring you the contemporary that was recommended by ALL FOUR creators of this readathon! And while I didn't give it 5 Stars like the previously mentioned quartet of powerhouses, I will say it ended up being my favorite read for the month of September. Even though the story felt very predictable to me, there's something about how Caletti weaves her words that kept me speed reading through the book. And despite the fact that I knew what was coming, I still got emotional seeing the words confirmed on the page. Not as emotional as I thought I'd be, but emotional nonetheless. Whether you love it or hate it, this is an important novel centered on a relevant issue that needs SERIOUS discussion in this country, and I applaud Caletti for contributing to the conversation.
---
Final Results:
Books Read: 

5 of 7 
Challenges Completed: 

7 out of 7
Pages Read: 

1,831 pages
---
Well, I did it! Seven challenges in seven days! And with 5 books too! How did y'all do? Did we read any of the same books? Have you read any of these titles? Have you read the two that escaped my grasp this time around? Let me know below!
And, as always: Happy Reading! 💚
---
WANT TO FOLLOW ME?