Top Ten Tuesday #32
Happy Tuesday, book nerds! 
I'm testing a new drop time with this post, so I hope it doesn't throw too many of you off! If you don't like the late-night posting, please let me know below! I want to make sure my content is always convenient for my loyal readers! Beyond that, it's looking like I officially WON my first game of fantasy football!!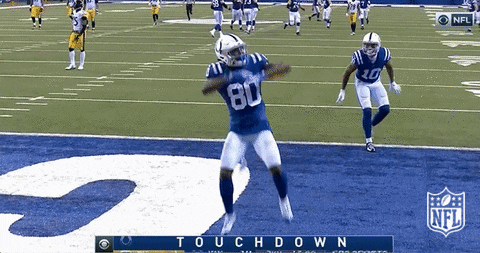 I suppose it could technically change, but we're in the final quarter and I'm up by 50+ points, so I'm starting the victory dance! Here's hoping it won't be my only W of the season! Are there any other fantasy footballers out there? If so, comment with your team name below! Extra points if it's punny, because those are my favorite!
---
It's just barely Tuesday, but it's time for a super early edition of TOP TEN TUESDAY!
Hosted by Jana at ThatArtsyReaderGirl, this week's topic was "Hidden Gems" or the books that didn't get the marketing they deserved. Due to the fact that I've been spending the year catching up on ARCs, super hyped books, and series I've never read, I wasn't sure I would be able to do this topic. However, while scrolling through my Goodreads list I was SHOCKED to see how many beloved books I've read over the past year and a half that had ridiculously low levels of ratings and reviews. Whether they were 5, 4, or 3 Star reads, I feel every title on this list deserves MORE LOVE than it's currently received. So scroll on and check out my list of TOP TEN UNDERRATED AND UNDER REVIEWED HIDDEN GEMS.
---
Truly Underrated And Under Reviewed:
 1) Here Lies Daniel Tate by Cristin Terrill  – Ratings: 1,796 Reviews: 444
I've recently shared my love of this twisted thriller, but somehow in all that gushing I missed the shockingly-low level of reviews and ratings. When I saw these stats today I knew I needed to get the word out. Read this short & sweet review and tell me you're not chomping at the bit to dive in!
2) Reign of the Fallen by Sarah Glenn Marsh – Ratings: 1,908 Reviews: 724
Lured in by the cover art, I quickly fell under the spell of this necromancer-centered fantasy. Full of love, loss, grief, coups, and magic this diverse story deserves more attention than it's received thus far. Plus, book 2 drops in 4 months so it's a perfect time to get your Shades in a row.
3) Undead Girl Gang by Lily Anderson – Ratings: 2,649 Reviews: 889
Another necromance-themed title hits my list this week, but this one has an entirely different — and sassy — vibe. This ownvoice standalone made me laugh out loud on more than one occasion and showed some impressive character growth in its 300-page span. If you're a fan of Heathers and can handle some dark humor, I'd add this witchy read to your Halloween TBRs pronto!
4) Bad Romance by Heather Demetrios – Ratings: 2,703 Reviews: 700 
This book gives readers a "lusciously crass" and intimately personal insight into the good, the bad, and the ugly of relationships gone wrong and I can't recommend it enough! I'm not delving into the plot because I think it's better to go in blind, but this book opened my eyes to a mentality I never fully understood and had a terrific balance of light vs. dark. Even though it sounds grim, there's a lot of laughs along the way, an exit strategy, and a confidence-boosting ending that gives you a cathartic charge. Pick this up! Trust me! Check out my quote-filled review here!
5) Nyxia by Scott Reintgen – Ratings: 2,978 Reviews: 1,045
If you've been following me for awhile, you know how much I LOVED the first installment of this sci-fi triad. Even if you ditched the nostalgia, this was one of my favorite 5-Star reads of 2017! So you can imagine my outrage upon discovering the minimal ratings devoted to this saga! Do yourselves a favor and pick this up sooner than later. Fathom?
Slightly Underrated And Under Reviewed:
6) Allegedly by Tiffany D. Jackson – Ratings: 8,446 Reviews: 1,943
"Some children are just born bad, plain and simple." While that might be true, there's nothing plain or simple about this emotional thriller centered on a 9-year-old girl who murdered a 3-month-old baby. Allegedly. This debut, which has received more love than the previous 5 entries, has a strong voice, addictive pacing, and an ending that's worthy of a therapy session. Seriously, there's one scene in this story that still haunts me to this day. Mary just wants to be loved, so add her story to your TBRs today!
7) Letters to the Lost by Brigid Kemmerer – Ratings: 10,424 Reviews: 1,951
This YA drama had me hooked from its opening line and falling for our pair of angsty MCs faster than I could physically turn the pages. Between the writing style, crafty word play, and love developed via correspondence there wasn't much I didn't adore about this emotional contemporary. If you're looking for a non-spooky addition to your fall TBR, consider getting lost in Kemmerer's novel.
8) Roomies by Christina Lauren – Ratings: 12,833 Reviews: 2,052
This silly story served as my introduction to the Christina Lauren duo. And while it might be on my mind because I recently inhaled Josh and Hazel, I honestly think it's just because I really enjoyed this music-based marriage of convenience tale. They say you never forget your first, and I'm certain it'll be years before I manage to withhold chuckles while thinking about this sweet contemporary. No matter your situation, this is one Roomie I'm certain can fit into any household — or TBR list.
9) Corrupt by Penelope Douglas – Ratings: 20,949 Reviews: 3,010
This might be the most controversial selection on this list, and not just because of all the potential trigger warnings. This dark romance is unlike anything I've ever read before and despite it's troubling elements I couldn't put it down. I reread it earlier this year to prep for a buddy read, and enjoyed it even more the second time around. If you can keep an open mind and are interested in this genre, I'd give Douglas the opportunity to corrupt you.
10) Bright Side by Kim Holden – Ratings: 26,949 Reviews: 4,940
Y'all are straight up kidding yourselves if you think for one minute I wouldn't put this emotional contemporary on a promotional post. I blog about this duology ALL THE TIME and I'll continue to do so until more of you have experienced this tear-inducing story. It's got cheese, uplifting messages, and not enough attention so be epic 😉 and add this title today!
---
And there you have my treasure trove of hidden gems! Have you read any of these under appreciated reads? Do you agree they deserve more love? Did any of these make your TBR because of this list??? Let me know below! 
And, as always: Happy Reading!
WANT TO FOLLOW ME?