Good afternoon, book nerds!

I hope y'all are still with me and survived that massive book haul post from this morning!! 🙈 If you didn't check out that doozy of a post, feel free to use the link above and let me know which book I should read ASAP!
Beyond hauls, it's time for the next installment in my holiday-themed series! In case you missed the weekend posts here's a quick recap:
From Dec. 1 to Dec. 25, I'll be highlighting

one

content creator that has made an impact in my bookish life. Each post will feature a mini bio on the day's selected star, all of the links to their fabulous content, and a special holiday-themed glimpse into their lives.
Are we ready to discover the creator behind door #3 on my

 Holiday

 

ADVENT

ure

?
It's…
Heather 

from

The Sassy Geek

!
I, like many people in the book community, fell under this YA/Horror loving blogger's spell because of her platform's quality content. In addition to the usual tags, reviews, hauls, and such (all of which are fantastic btw) she's also the specialized REC. QUEEN. I mean it's a whole category on her blog! Whether you're looking for tearjerkers or zombies, Heather's got you covered with fresh — and quality — titles!
The best thing about this Northern-based Ravenclaw (beyond her blog and insanely colorful Bookstagram account) is her sweet and welcoming nature. It can be daunting reaching out to people in this community when you're new. It can be anxiety-inducing reaching out to "bigger" bloggers that seem like they already have an "established clique." But friendships like Heather's prove that putting yourself out there is often worth the risk! Not only was she able to quash my fears instantaneously, but she was also able to show me that I wasn't alone in these worries. And now, I couldn't be more thankful because "taking that risk" introduced me to someone that I actually have loads in common with. I mean we even have the EXACT SAME line about our "noses being stuck in book" in our "About Me" sections!! If you're looking to follow an animal-loving gamer with a jones for all things Supernatual, please give her some of your time by checking out the links below:
1)

What is your favorite thing to do around the holidays/favorite holiday tradition?
Besides gathering with friends and family to just enjoy each other's company and have a good time, my family gets together to make lefse! For those of you who don't know what lefse is here's the wikipedia mini definition because saying "potato tortilla" doesn't work quite as well: "Lefse is a traditional soft Norwegian flatbread. It is made with riced or instant potatoes, flour, butter, and milk or cream. It is cooked on a large, flat griddle. Special tools are used to prepare lefse, including long wooden turning sticks and special rolling pins with deep groove." We ALWAYS have to have lefse because we are VERY Norwegian, haha!
2)

What is your favorite holiday scent? Or favorite holiday movie if you don't have a fave scent? 
My favorite holiday scent hands down is Vanilla Bean Noel from Bath & Body Works! I stock up every single year! I also really enjoy the smell of hot chocolate, but who doesn't? Just for fun I'll answer the second question too, my favorite holiday movie is (and forever will be) 'Elf'. I never get tired of that movie!
3)

What is your favorite holiday drink or dish?
Do Christmas Cookies count as a dish? Otherwise I do like eggnog, it's definitely an acquired taste though not everyone likes it!
4)

What is your favorite holiday jam?
"Santa Claus Is Back In Town" by Elvis Presley, but close second options are "Blue Christmas" also by Elvis and "Santa Baby" by Kylie Minogue. I know it's not the "classic" but I like her cover best! There's just so many great Christmas songs it's hard to pick!
5)

What is the number 1 book you hope Santa/family friend brings you?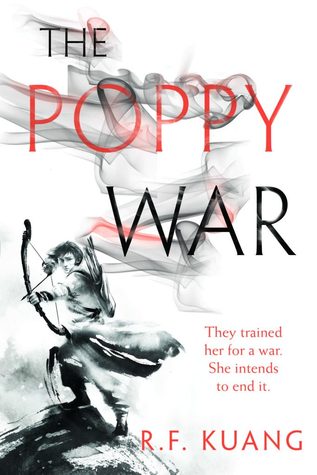 Oh no! Not choosing between books!!!
I'm going to have to go with "The Poppy War" by R.F. Kuang. This book was very hyped, but as far as I can tell very much worth it! It's an Asian-inspired fantasy and I'm very much looking forward to reading it!
6)

What is something you're thankful for in 2018?
I know this might sound cheesy and cliche by now, but I have to say I'm so thankful for the book community and everyone in it! It's helped me a lot with conquering my social anxiety and just letting me have an outlet to talk about my passion for reading with the sweetest, nicest, most genuine people.
7)

What's one of your goals for 2019?
I'll go with a blogging goal and they kind of go hand-in-hand so I'm technically saying two goals but shhhhh, it's okay. I would love to get better with my commenting and blog hopping! I get stressed out really easily when I try to do ALL the blog things: reading, posting, commenting, blog hopping, tweeting, and photos for Bookstagram. That's a lot!! However, I really want to find a way to make more time for talking with everyone on their own posts. Comments in general give me a bit of anxiety so I procrastinate terribly.
Dec. 1: Kaleena🎄Dec. 2: Meeghan🎄Dec. 3: Heather🎄
And that wraps up our first weekday post of my Holiday ADVENTure in 2018! I hope you enjoyed getting to know more about Heather's holiday traditions and that this post made your Monday afternoon a little more enjoyable! Stay tuned for a new content creator tomorrow! Happy holidays and happy reading!
WANT TO FOLLOW ME?